You gotta pump those numbers up, those are rookie numbers
There's nothing elite about this nurse practitioner's procedural credentials.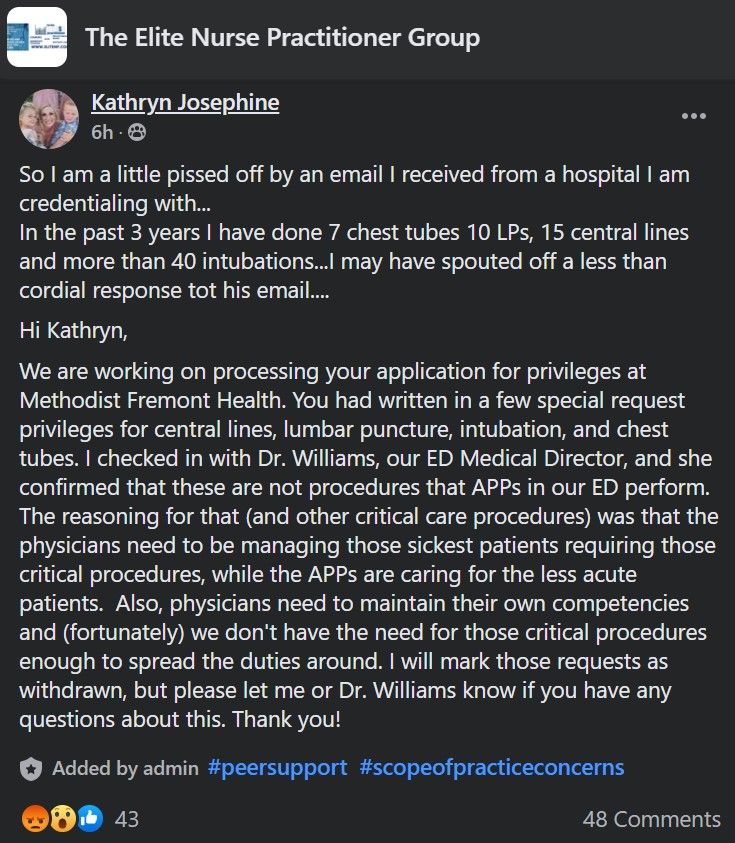 This supercilious nurse practitioner by the name of Kathryn Josephine McCary must think she's truly something special, given how few many procedures she's done. Let's see...7 chest tubes, 10 lumbar punctures, 15 central lines, and 40-plus intubations in 3 years. Breaking that down onto an annualized basis, that's basically 2-3 chest tubes, 3-4 LPs, 5 central lines, and 13-14 intubations per year. Broken down even further, that works out roughly to 1 chest tube every 4-6 months, 1 LP every 3-4 months, 1 central line every 2 months, and just over 1 intubation per month. Kathryn is truly an elite nurse practitioner. Do you know what you would call a board-certified emergency medicine physician with those kinds of numbers? Rusty. It would indeed be a rarity for an EM physician at all but the smallest of shops to go more than a few shifts without having to place a central line or intubate a patient. Hell, our beloved EM doc here at MidlevelWTF can personally attest to having logged a dozen chest tubes and 45 intubations in the span of a week during residency. Quite frankly, NP Kathryn's procedural experience is laughable in the realm of emergency medicine, and we can't imagine any EM physician (at least one who hasn't sold their soul to corporate medicine) being comfortable with someone like this.
And so we have to give a big shout-out to Dr. Williams, who appears to be the ED medical director at Methodist Fremont Health, for putting her foot down and stating, in no uncertain terms, that "these are not procedures that APPs in our EDs perform" and pointing out, quite correctly, that physicians need to be the ones managing the sickest patients. This, folks, is how physician leaders stop midlevel scope creep dead in its tracks and fight to preserve physician-led, physician-supervised medicine.
And it's not just physicians who care about this. According to a recent ACEP-sponsored public opinion poll, "nearly 80 percent of adults trust a physician to deliver their medical care in an emergency, compared to a nurse practitioner (9 percent), physician assistant (7 percent) or nurse (5 percent)." (How NPs, with their even lesser training beat out PAs, we haven't the slightest idea.) In any case, if you're in the ED suffering from a life-threatening condition, wouldn't you want the person with the highest level of knowledge, training, and experience - i.e. a board-eligible/board-certified emergency medicine physician - taking care of you and performing any necessary life-saving procedures? We're relieved to see that NP Kathryn's request for procedural credentials got denied. Now off to fast track you go!