"She need a get off the couch med"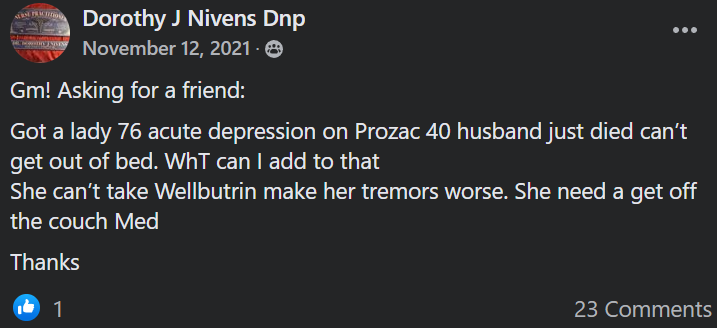 Perhaps in response to our revelatory exposés of idiotic midlevel social media consults, we've noticed a substantial uptick in the number of aforementioned social media consults being nebulously reframed as "case studies" or "asking for a friend"-type questions. Here, we have an example of the latter from "doctorally-prepared" PMHNP Dorothy Nivens, who is apparently also an FNP with a commanding grasp of spelling, grammar, and punctuation. Can anyone help recommend a "get off the couch Med" for DNP Dorothy's "friend"? Wait, what the fuck?! Why is a psychiatric-mental health nurse practitioner even asking a question like this?

First of all, we've literally never heard our physician colleagues refer to any medications, psychotropic or otherwise, as "get off the couch meds". Using such language is not only medically inappropriate and clinically vague but also suggests a lack of basic understanding of drug mechanisms, particularly given the fact that Dorothy has a "Doctor of Nursing Practice" as a nurse practitioner in psychiatric-mental health. Doctorally prepared, my ass!

In any case, asking for a "get off the couch med" for a 76-year-old patient whose spouse just passed away is just plain messed up. Is Dorothy's friend (assuming they exist) also a clueless PMHNP? They must be, if they're labeling bereavement and acute grief - you know, a normal reaction to have when your husband just fucking died - as "acute depression", whatever the hell that means. For crying out loud, this poor patient needs emotional support, not a "get off the couch med"! It's quite concerning that a psychiatric-mental health NP with "doctoral-level" training doesn't seem to appreciate this and feels the need to consult Facebook instead. Worse still would be the possibility that this poor 76-year-old lady literally can't get out of bed, which certainly opens up a whole new can of worms which would like require emergency evaluation for possible non-psychiatric causes (infection, stroke, myocardial infarction, etc.) that aren't going to be magically fixed by a "get off the couch med".
---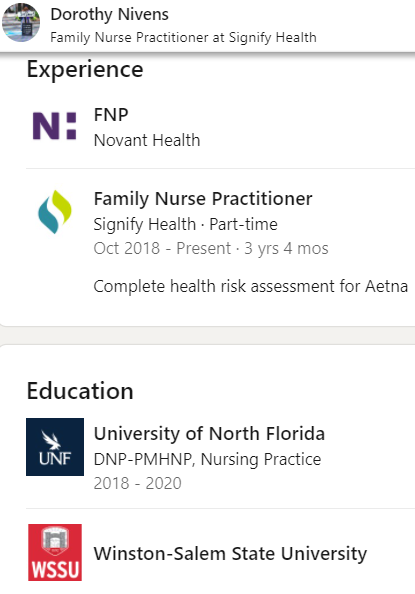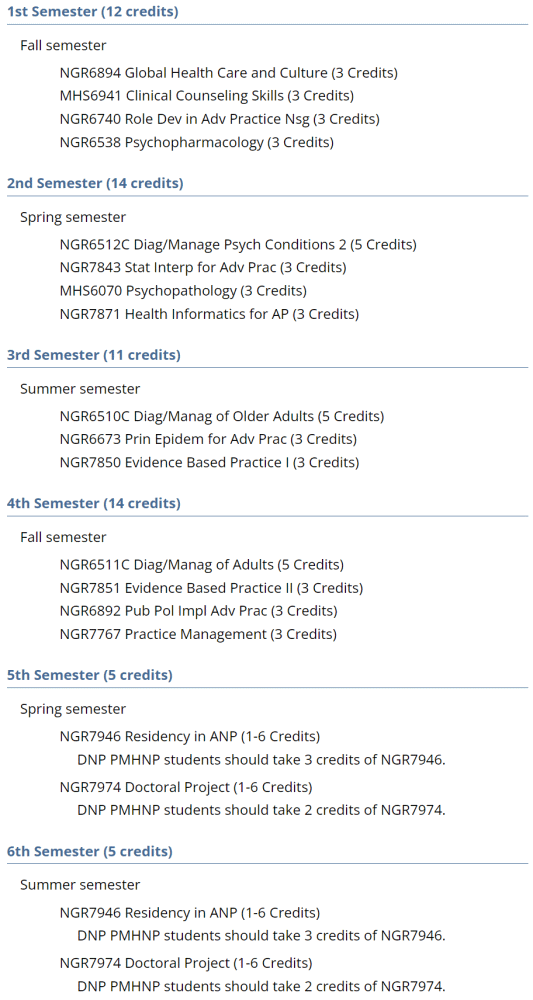 Our star midlevel provider obtained her DNP-PMHNP degree from the University of North Florida. UNF's DNP-PMHNP program offers "online studies" with 61 credits and 750 clinical hours over six semesters, a curriculum which can be completed in only two years if Dorothy's LinkedIn is any indication. Apparently, a whopping 160 of those 750 clinical hours is devoted to care for older adults. Just imagine how many "get off the couch meds" you can learn in a month. Amazing!