Psychiatric-Mental Health NP consults Facebook for help with antidepressants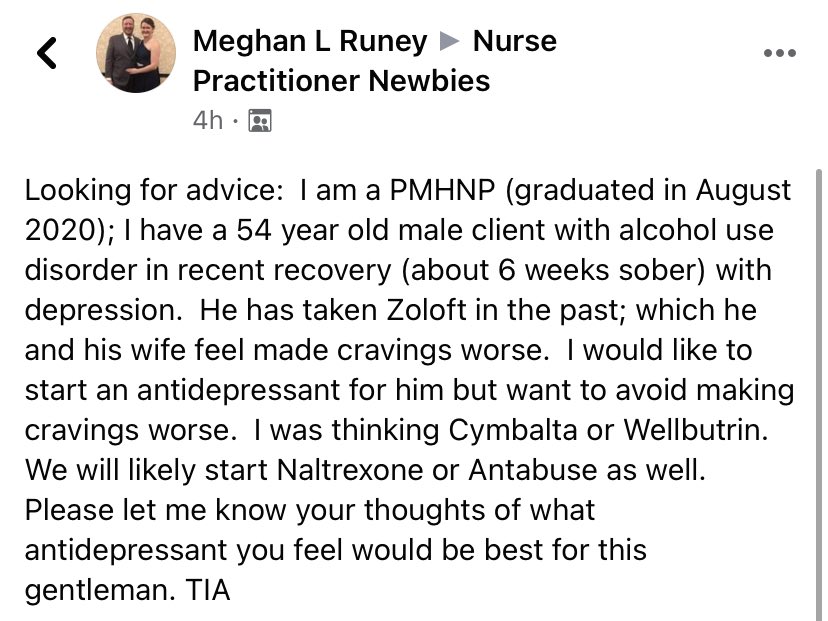 There's a reason why physicians specializing in psychiatry complete a four-year residency. In addition to learning how to diagnose, work up, and manage psychiatric diseases, psychiatrists (as with any other physician in any other specialty) gain the awareness to differentiate between what they know and don't know, and how to conduct research and look for more information using reputable sources (hint: not a Facebook group entitled Nurse Practitioner Newbies).
Some additional research indicates that this "PMH-NP" graduated from Walden University, a perennial favorite in the world of reputable, for-profit online "universities" offering (selling?) nurse practitioner degrees (and the defendant in an ongoing class-action lawsuit arising from questionable/nonexistent preceptor availability). Let's take a look at their curriculum:
640 clinical hours and a bunch of online coursework. Apparently, that's all it takes to graduate and suddenly become an "expert" in psychiatry and mental health. Judging by this Facebook post, NP Runey seems to be randomly pulling antidepressants from completely different medication classes out of a hat. Cymbalta, an SNRI? Wellbutrin (bupropion), an atypical antidepressant that, among other things, acts as an norepinephrine–dopamine reuptake inhibitor? How about naltrexone, a competitive alcohol antagonist? Or Antabuse (disulfiram), which works by inhibiting acetaldehyde dehydrogenase? Do they even teach basic pharmacology in NP school? One could argue that not even physicians get exposed to sufficient amounts of pharmacology in medical school. This patient deserves a real psychiatrist with a MD/DO, not a PMHNP fresh out of NP school that consults Facebook for help with basic psychiatric medications.