"Physician-founded" scrubs company Jaanuu features a "Doctor" in its latest ad
Call a spade a spade, and this "family primary care provider" for what he is - a midlevel, non-physician-provider.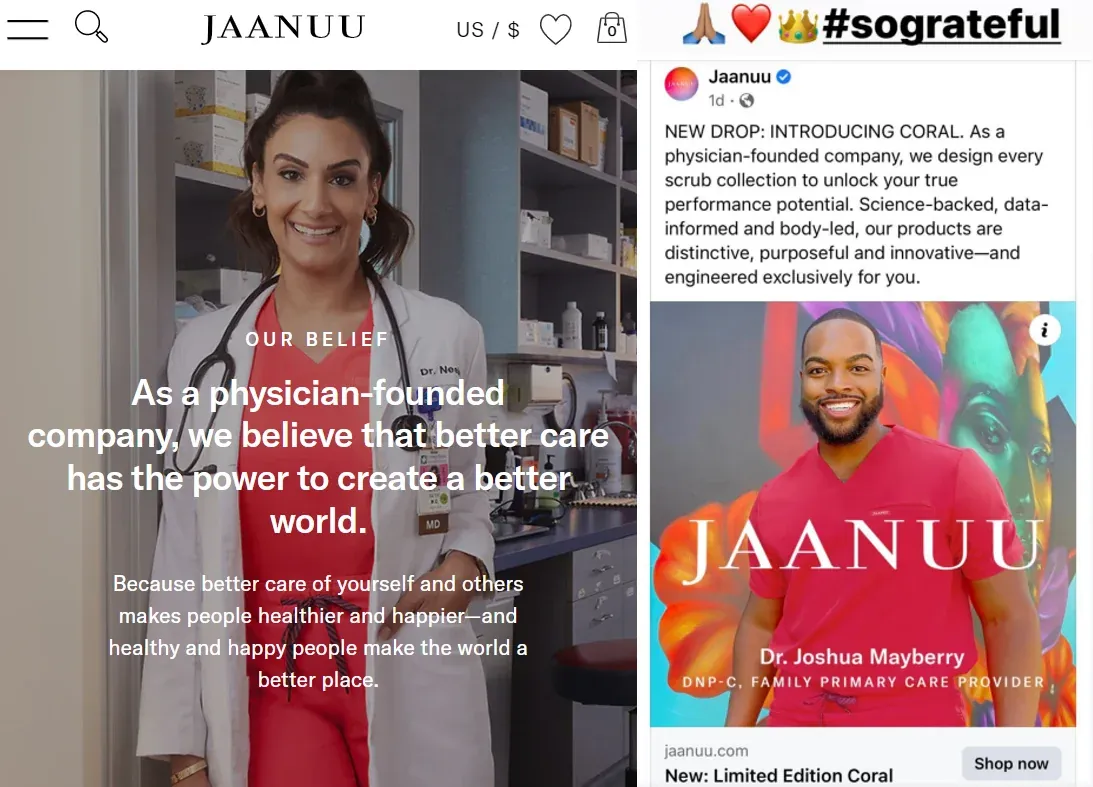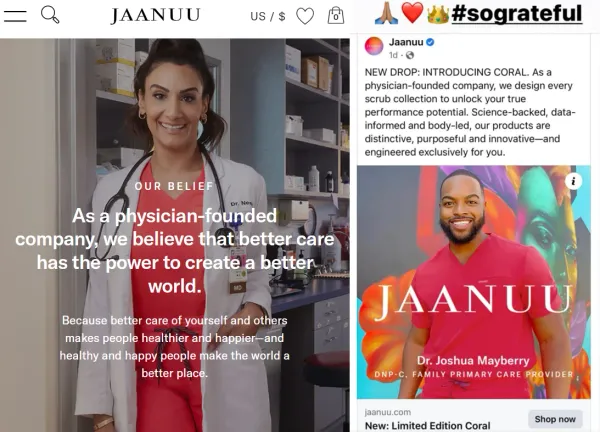 Valued at over 12 billion dollars by some estimates, there's no question that the designer healthcare apparel industry is a booming market. With a slew of up-and-coming labels like Figs, Jaanuu, Medelita, and Mandala attempting to take on traditional garment manufacturers like Cherokee and Dickies, it's become evident that these companies will stop at nothing to peddle their wares to anyone who might buy them, even if it requires shitting on physicians and drawing false and misleading equivalences between MDs/DOs and non-physician midlevel providers such as nurse practitioners and physician assistants. Consider, for example, Figs' bright idea to create a video portraying female osteopathic physicians as dummies who can't read: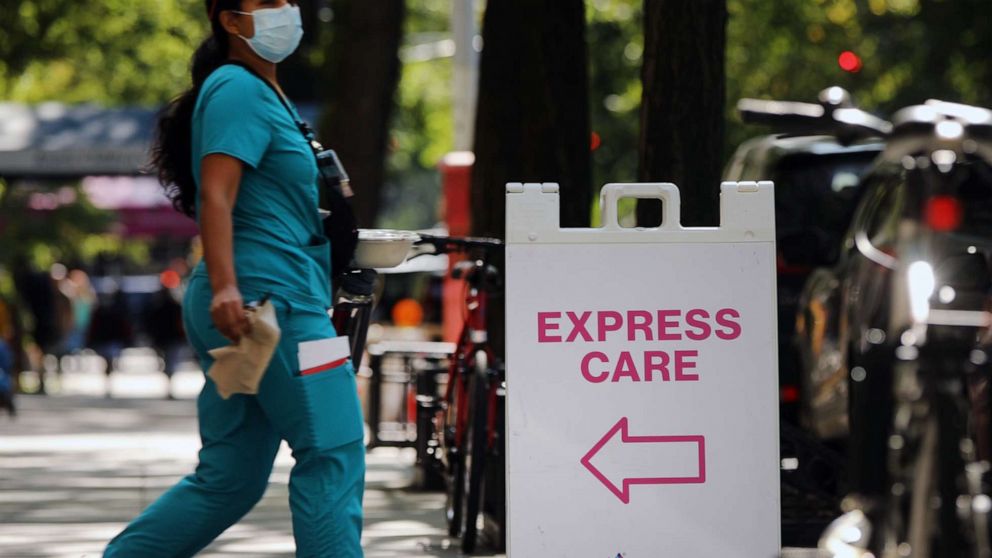 Not to be one-upped by their larger competitor, "physician-founded" scrubs company Jaanuu recently decided to advertise their latest "Coral" color on both Facebook and Instagram, courtesy of totally-a-doctor Joshua Mayberry.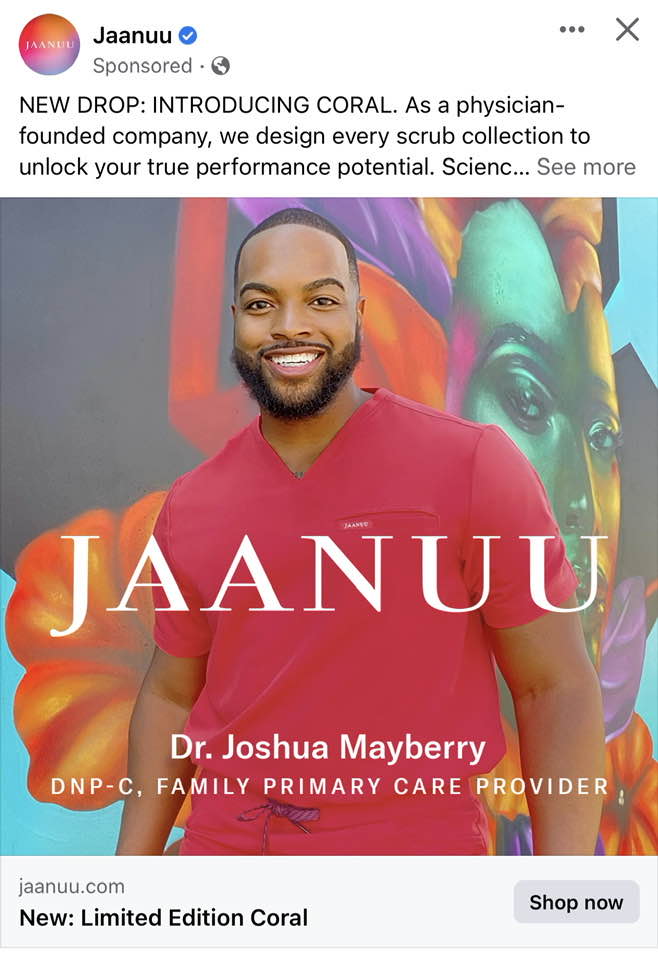 Of course, it's not immediately obvious that Mister Mayberry here is not actually a "Dr." in the traditional sense, as this "physician-founded company" would have you so prominently believe. Instead, he's a "Doctor" of Nursing Practice, i.e. a midlevel nurse practitioner.

To the surprise of no one, with the exception of his LinkedIn profile, Mister Mayberry goes to great lengths on social media to conceal and obscure the fact that he is a nurse practitioner and not a physician. This "family primary care provider" clearly appreciates publicity, so let's give him some!

"Doctor" Mayberry also has quite the impressive collection of scrub selfies nebulously titling himself as an "Adult Medicine Practitioner".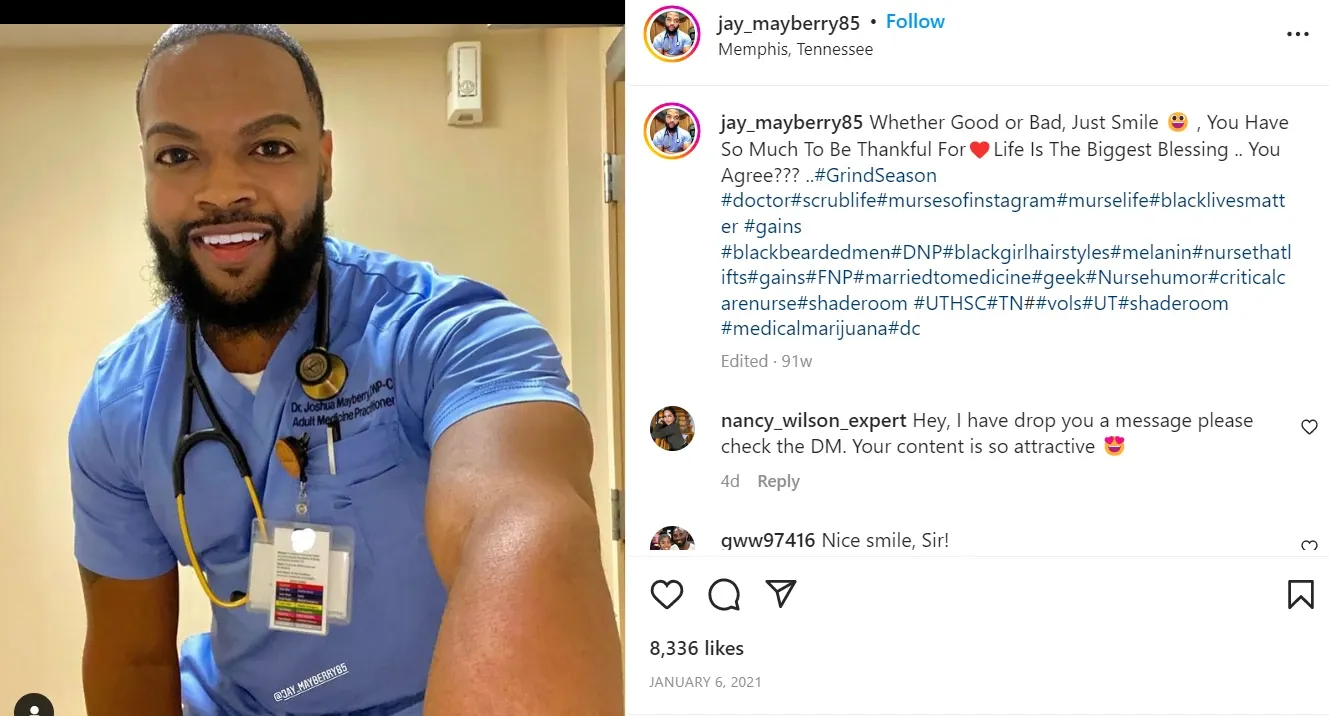 "Adult Medicine Practitioner"? What the fuck?! What does that even mean? If we physicians don't even know what that means, how is a layperson patient supposed to know what it means? Hey, you know who else could be called an "adult medicine practitioner"? How about a residency-trained, board-eligible/board-certified physician in virtually any medical specialty besides pediatrics? How does someone who's a fucking nurse practice "adult medicine", anyway? Quite frankly, Mister Mayberry's antics are a slap in the face to every physician who has graduated from medical school, earned an MD/DO degree, and completed residency training.

I guess we're going to have to give Jaanuu co-founder Neela Sethi Young, MD the benefit of the doubt here, because she actually is a pediatrician. ¯\_(ツ)_/¯
To make matters worse, it's evident that Mister Mayberry owns at least one pair of scrubs that takes his title obfuscation game to an entirely new level. Indeed, the only title that's fully visible in this photo is "Dr." Contrary to the comments, there's nothing adorable about a midlevel nurse practitioner trying to pass himself off as a medical doctor.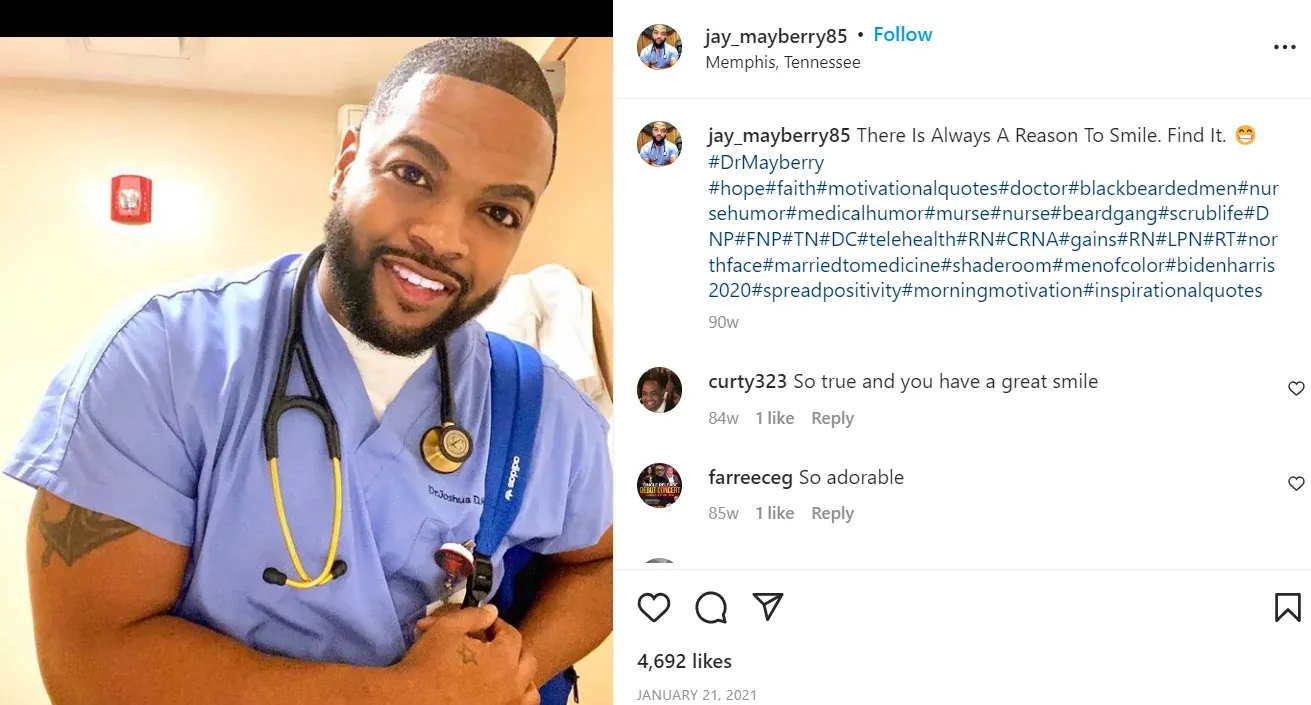 Shame on you, Jaanuu and Dr. Neela, for choosing a nurse practitioner (who apparently can't even be bothered to call himself one!) to represent your "physician-founded company". Was it not possible to seek out literally any of the one million-plus actively licensed physicians in the US to be the ambassador for your brand? If you really believed in better care for patients, then you would advocate for physician-led, physician-supervised healthcare and title transparency in medicine, instead of whoring your brand out to a nurse practitioner moonlighting as a social media charlatan. Oh well. Everyone knows that real physicians wear the free hospital scrubs, anyway!