Get your liposuction done by "Doctor" Secil Schodroski, Part 2: Sketchy supervision by a sketchy neurosurgeon
Get the "liquid gold" liposuctioned out of your fat arms by a sketchy nurse practitioner under the supervision of an equally sketchy neurosurgeon!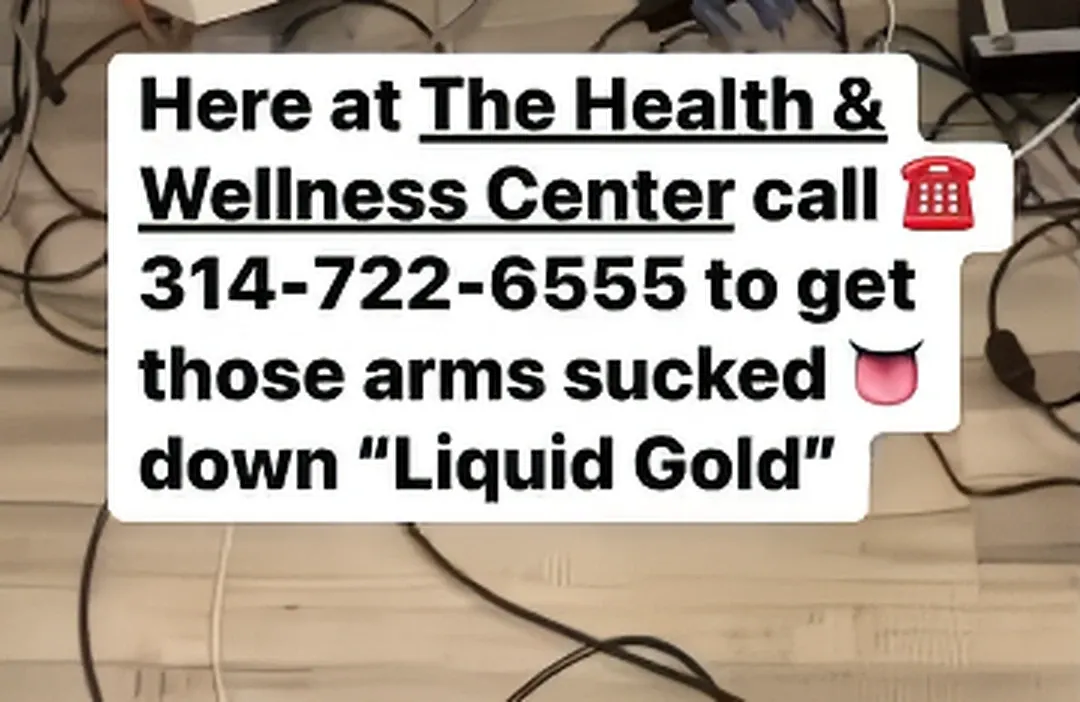 "Doctor" (of Nursing Practice) Secil Schodroski's The Health & Wellness Center in St. Louis, MO continues to operate unabated since we initially covered it in our original article in late October 2023.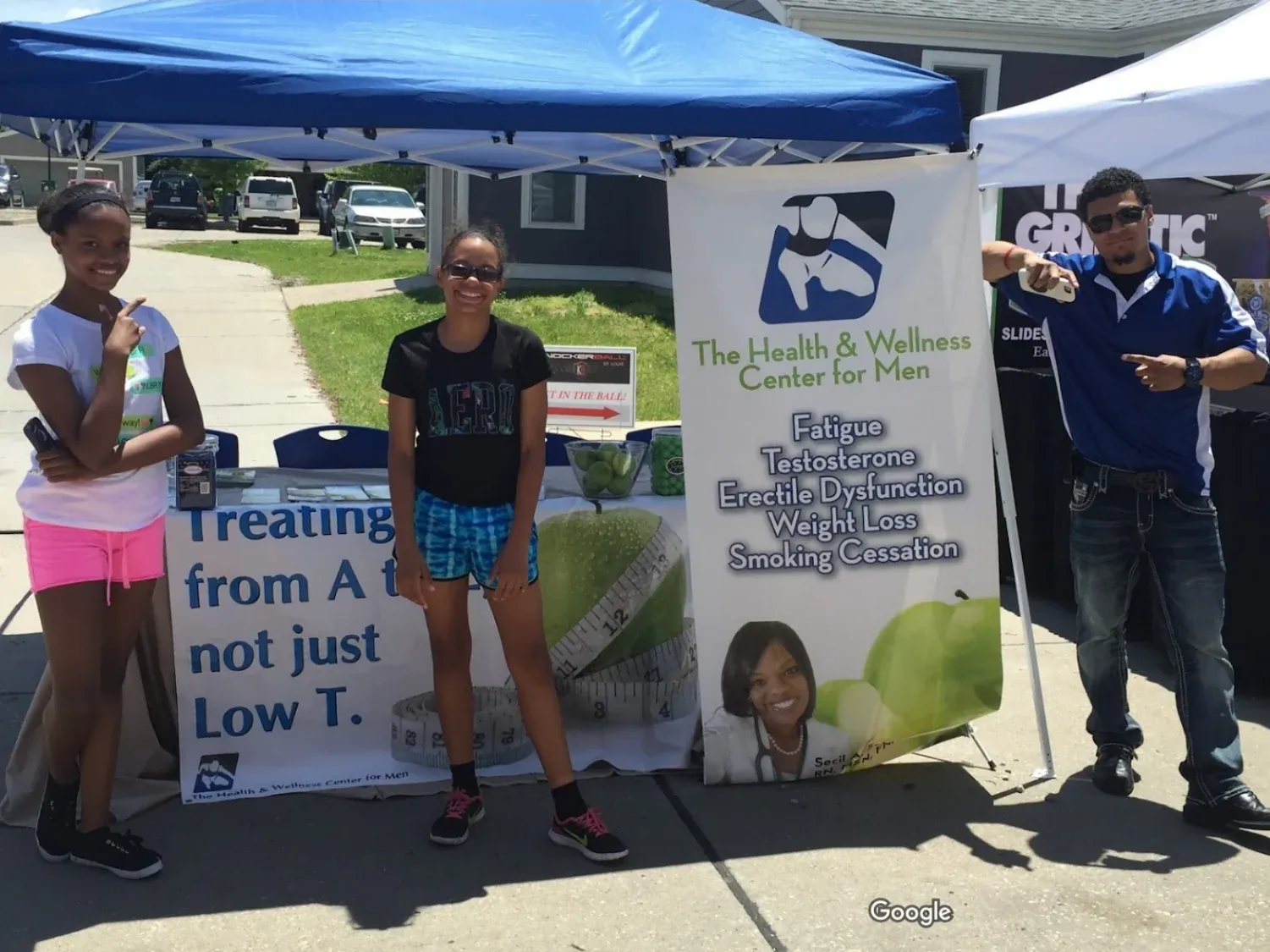 Nurse practitioner Secil continues to perform liposuction, as evidenced by this later video posted to her Instagram on November 11, 2023 and later shared on the r/Noctor subreddit; her Instagram account (@drsecil1) now appears to be deactivated.
We can readily observe multiple questionable practices:
And to use terms like "gold and yellow" and "Liquid Gold" are just plain tacky and revolting. Is NP Secil referring to the byproducts of liposuction, or her income stream from her hapless customer-patients?
---
Equally fascinating are the recent developments with the physician supervision/medical directorship of Secil Schodroski's The Health & Wellness Center, which we did not cover in our first article. With the assistance of the devoted sleuths over at r/Noctor, we learned that up until recently (perhaps as recently as October 2023), the supervising physician/medical director of THWC was an OB/GYN by the name of Eboni January, MD, who markets herself online as a "Board-Certified physician/surgeon, author, and health coach".
We attempted to reach out to Dr. January on Instagram to inquire further about her relationship with THWC and NP Secil, but it looks she proceeded to block the MidlevelWTF Instagram account.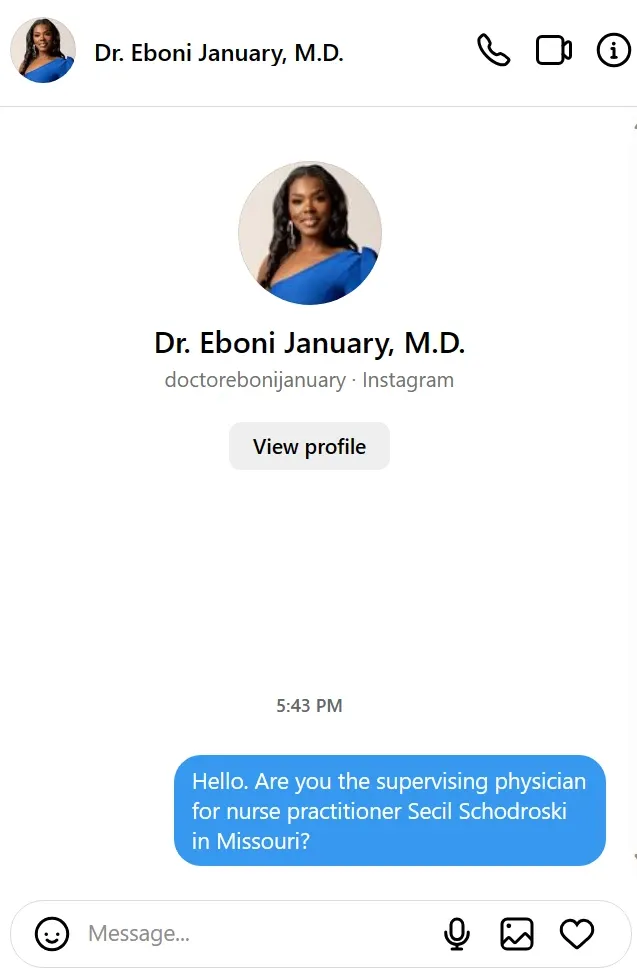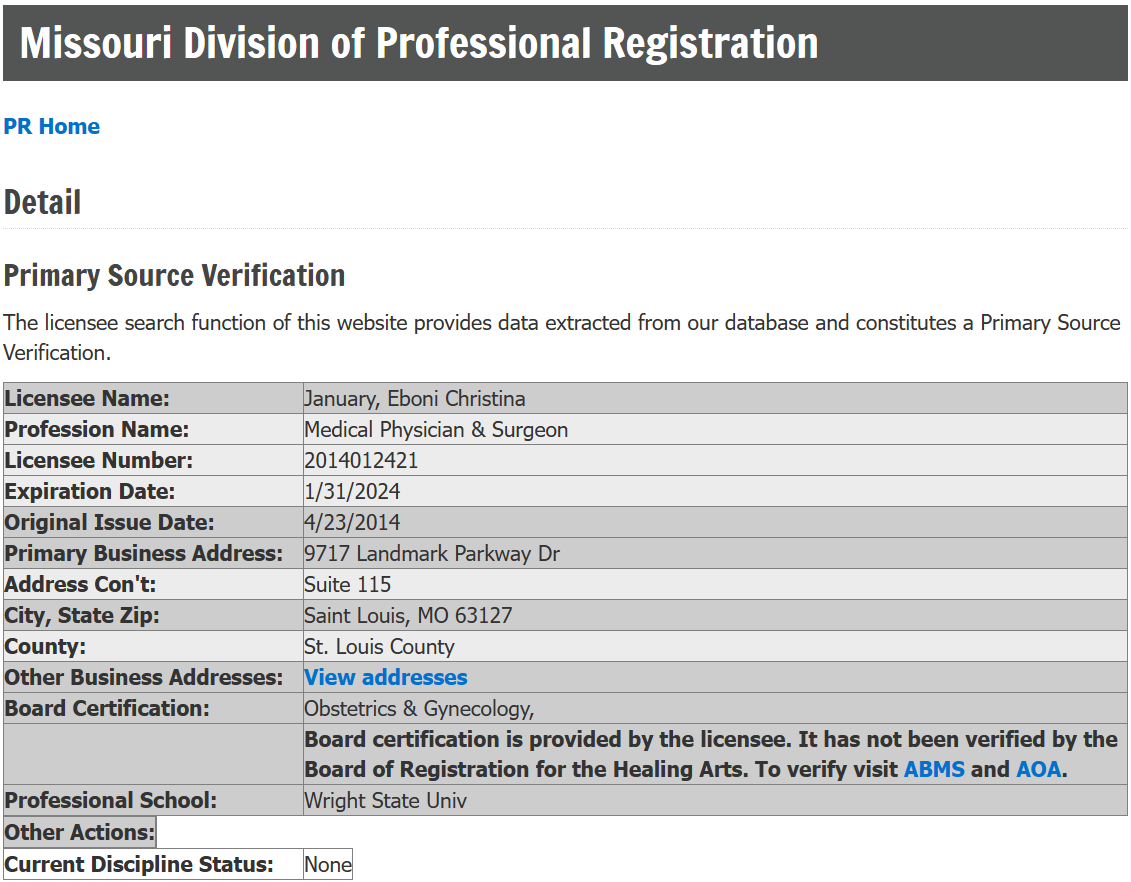 No matter, because according to the Missouri Division of Professional Registration, Dr. January's primary practice address is the exact same as that of The Health & Wellness Center, right down to the suite number - 9717 Landmark Pkwy Dr Ste 115, St. Louis, MO 63127.
As we mentioned in our original article, Missouri requires midlevel nurse practitioners to have a supervising physician physically located within 75 miles of them. However, a keen-eyed Redditor stated that Dr. January may have moved out of Missouri to Texas two years ago. While we are unable to independently verify this, the fact that she maintains a practice in Texas - "M.D. January Wellness Center" - would lend credence to this claim.
---
Perhaps that's why, as of this writing, the "Our Team" page on the website of The Health & Wellness Center lists a new medical director, neurosurgeon Joseph Yazdi, MD.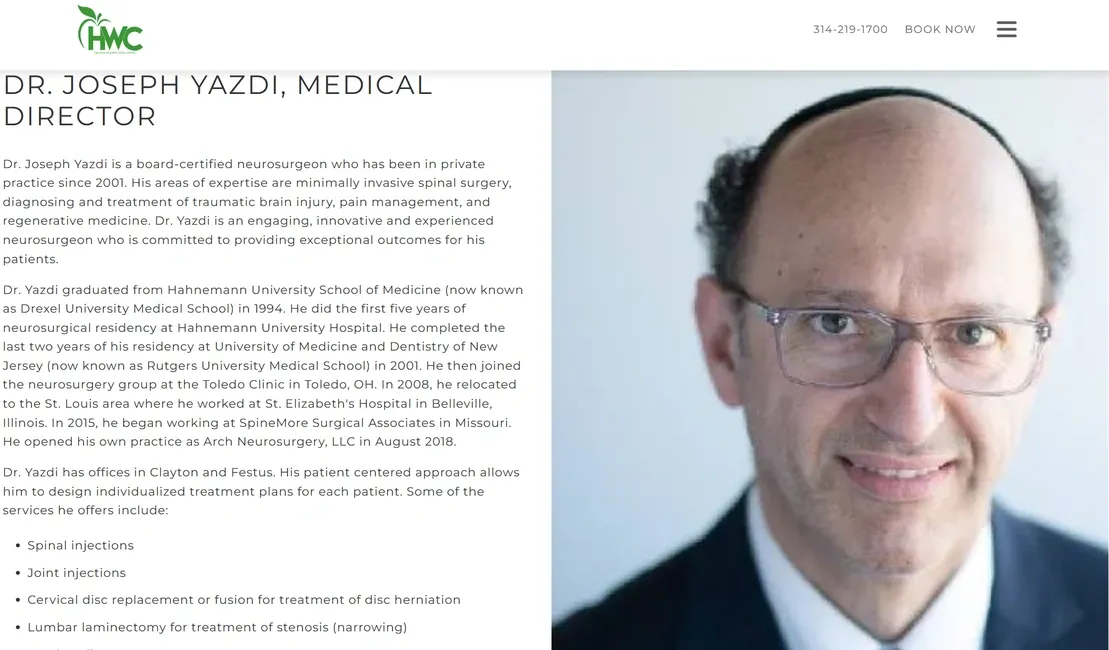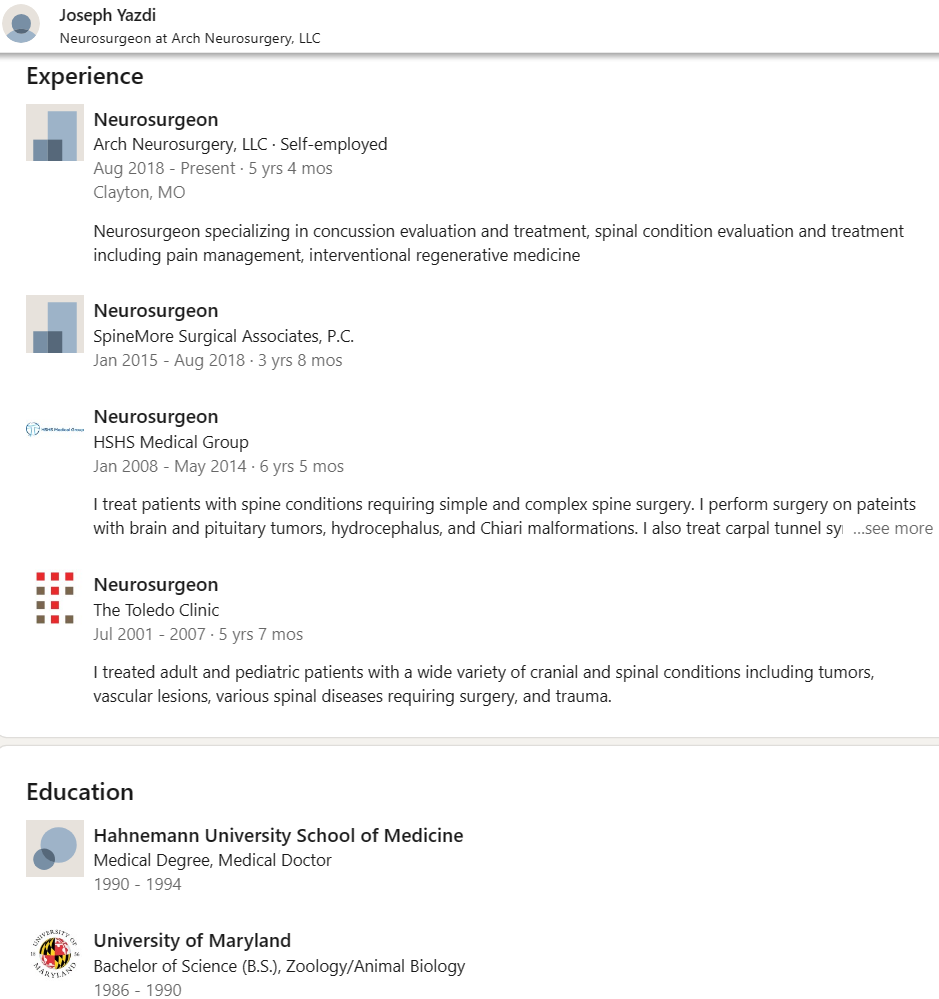 The obvious question to ask would be "how in the fucking world is a neurosurgeon qualified to perform or supervise liposuction?", but honestly, that's pretty low-hanging fruit. The better question to ask would be, when the average neurosurgeon makes $788,313, why would a neurosurgeon - let alone one who has his own private practice - need to voluntarily fuck around with supervising a family nurse practitioner who has gone off the rails and whose scope of practice has nothing to do with neurosurgery? Well, as it turns out, Dr. Yazdi has a pretty colorful history when it comes to medical malpractice.
While neurosurgery is admittedly a high-risk specialty, facing eight malpractice claims in almost as many years, let alone being sued for malpractice more than once a year surely raises some eyebrows, even taking into account the 19.1% annual risk of facing a malpractice claim by neurosurgeons. Nevertheless, we're 100% confident that NP Secil will receive direct, high-quality competent supervision of her decidedly non-neurosurgical procedures from an esteemed neurosurgeon such as Dr. Yazdi. Maybe she can start offering Botox injections for back pain, assuming a patient doesn't sue her and Dr. Yazdi first!