All by myself
Independent practice is all fun and games until you need a physician to bail you out.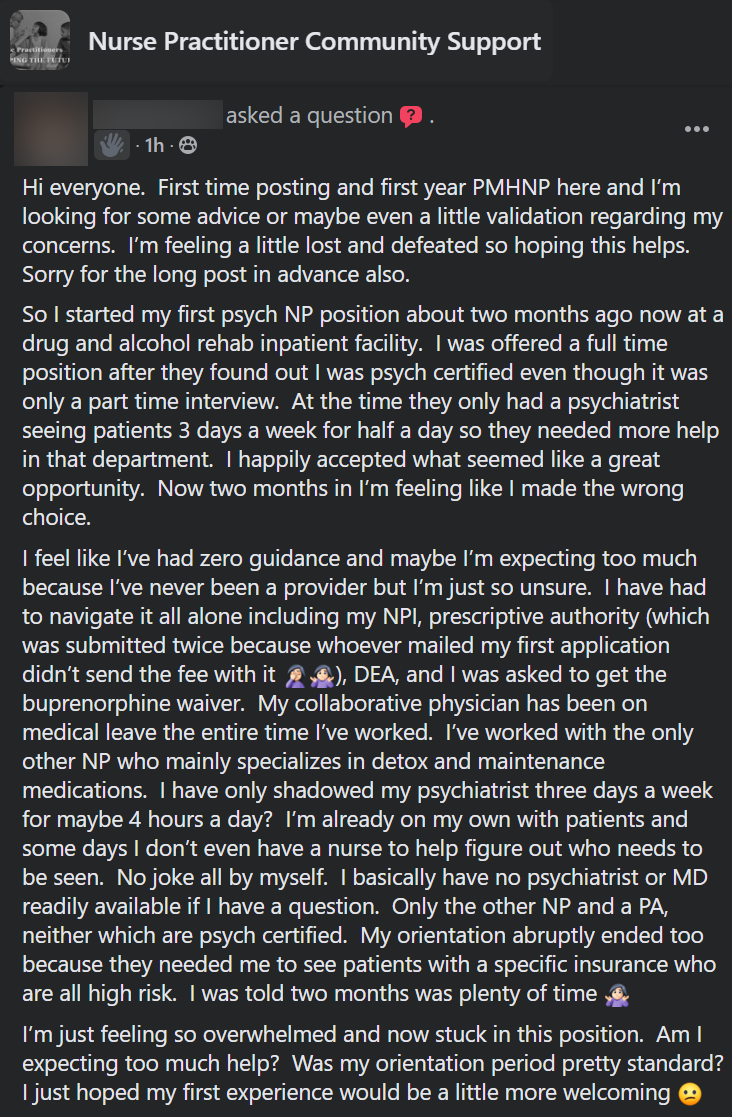 Did you hear that noise in the background? Oh wait, it's just the AANP and its goons clamoring for full practice authority in all fifty states. Yep, the same AANP that opposes mandated residency and fellowship for nurse practitioners. The same AANP that thinks, somehow, that nurse practitioners, including brand-spanking-new graduates with as little as 500 clinical hours of "training" are fully equipped to head out into a brave new world and set up shop to start practicing independently, without physician supervision. What we have here is prime evidence - exhibit A - to show what a terribly bad idea this is. Apparently, this new-grad PMHNP by the degree courtesy of Wilkes University, is quite overwhelmed and having difficulty fulfilling basic job responsibilities (one shouldn't need a nurse to figure out who needs to be seen), even after two months of orientation and shadowing three days a week for four hours per day. Can you imagine an attending physician needing that much time for orientation, let alone still not knowing how to do your job after that long? Hell, even resident physicians are expected to have a basic level of competency after a week or two as they rotate to different services and practice settings from month to month.
But then again, one can't expect to be very competent after attending a PMHNP program at an institution like Wilkes University, which proudly advertises the fact that "all coursework is 100% online with each course experience being primarily asynchronous." Oh, and only 500 clinical hours too! LOL. Compare that to an attending psychiatrist who has completed four years of medical school (which includes two full years of clinical rotations), followed by a four-year ACGME-accredited psychiatry residency. It's no exaggeration to note that a fourth-year medical student would have several thousand more hours worth of clinical exposure and training than a nurse practitioner - training hours that are much more rigorous, to boot. Hell, even barbers are required to have more training hours in some states. Is this the kind of profession that you want taking care of patients, especially in a vulnerable setting like inpatient substance abuse rehabilitation? Is this the kind of practitioner that you would want taking care of your loved ones at their greatest time of need? I sure as hell hope not.