Will the real doctor please stand up?
When patients ask for a doctor, they sure as hell aren't referring to a PMHNP.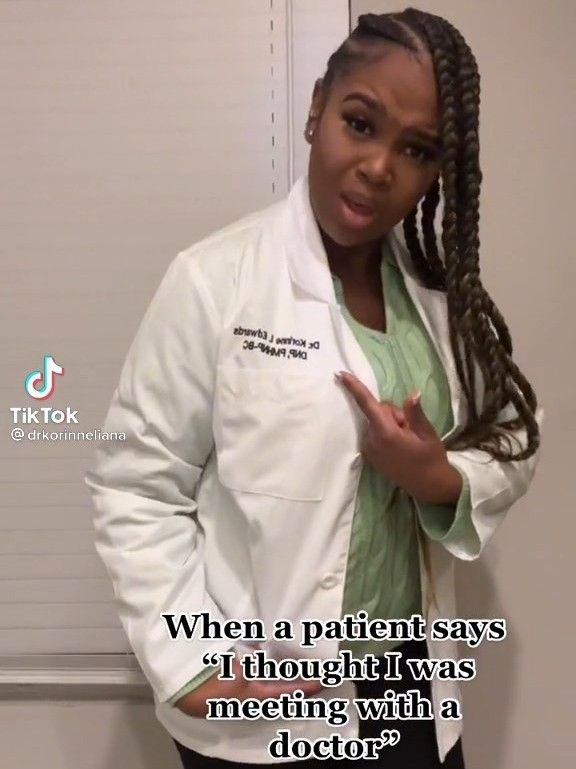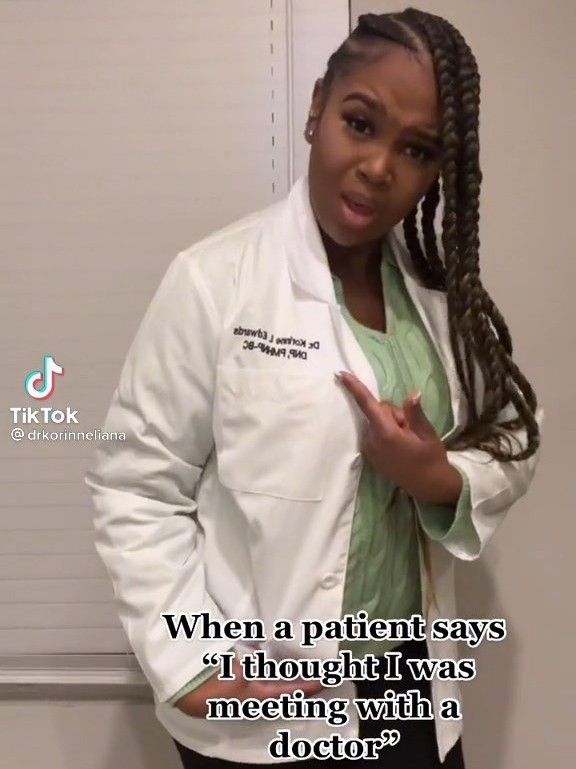 When patients say things like "I thought I was meeting with a doctor" after being unwittingly bait-and-switched into seeing a midlevel provider, it's pretty damn clear what they meant - that they expected to see a physician with a MD/DO degree, not a midlevel provider such as a nurse practitioner with a mere fraction of a physician's training. Not in the distorted alternate reality of Korinne Liana Edwards, DNP, PMHNP though! If her cringe-tastic TikTok video is any indication, then we can only conclude that her standard response to any patient who asks to see a doctor is to mock them mercilessly instead of respectfully acquiescing his/her request to be seen by a physician, of which there are many over at LifeStance Health/Georgia Behavioral Health Professionals where Ms. Edwards works. On another note, why is Ms. Edwards' white coat so short? Perhaps it's a representation of the number of hours spent on professionalism training and social media etiquette in NP school at Columbia University?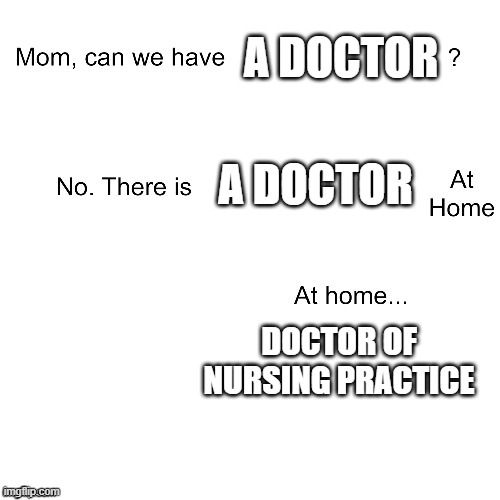 It doesn't need to be said that getting a "Doctor of Nursing Practice" degree and putting on a white coat does not automatically turn someone into a real doctor, especially not in a clinical setting, where the term "Doctor" unmistakably and unambiguously refers to a physician with a MD/DO. After all, since when "going to the doctor" mean "going to see the doctorally-prepared nurse practitioner"?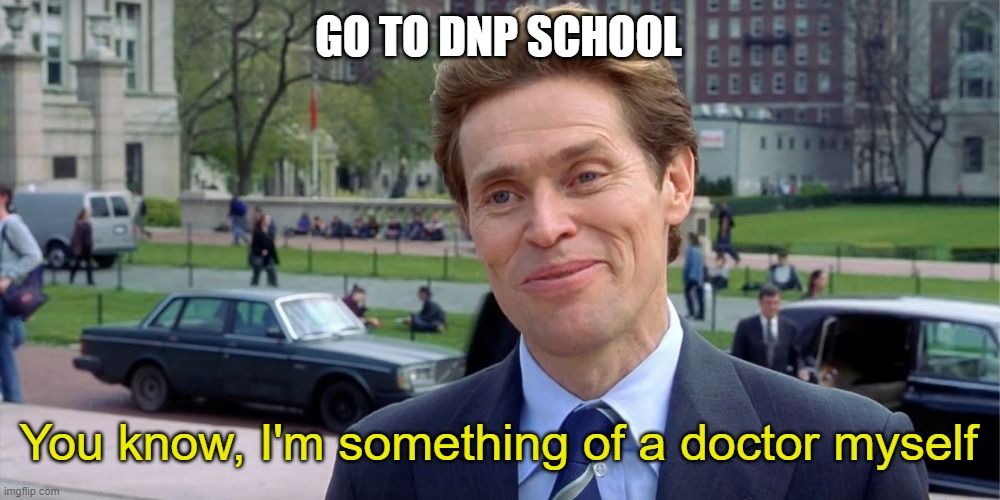 Several states have title protection laws for terms such as "Doctor", "Physician", etc., including Georgia, where Ms. Edwards is located. Georgia Code § 43-34-22 states the following:
Indeed, it's pretty clear what Ms. Edwards is trying to imply when she points to the "Dr." on her white coat, in reference to a patient stating "I thought I was meeting with a doctor". In the context of Georgia law, such antics might be legally questionable at best.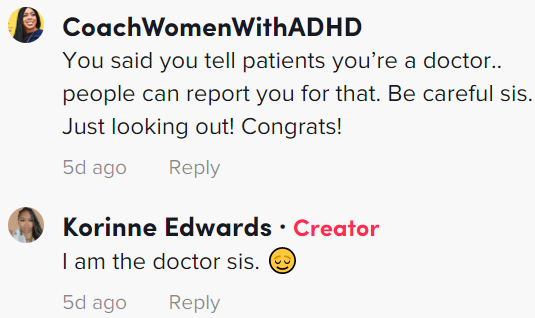 Ms. Edwards later posted in the comments and even created a follow-up video on TikTok in a misguided attempt to clarify her position, but ultimately, she doubles down further on her use of the protected title "Doctor" - "But at the end of the day, it's doctor to you, and I said what I said!" Ms. Edwards also talks about not wanting to be a physician and choosing not to go to medical school, but at the same time, says that "I can do just about everything a physician can do." Which is a little concerning, because unlike a physician with an unrestricted medical license, she certainly can't do everything a physician can do, legally at least.
Let us take this opportunity to further expound on the topic of having a mere fraction of a physician's training. According to her LinkedIn, Ms. Edwards never completed a bachelor's level nursing degree while at (The) Ohio State University. Instead, she completed a ~1-year MSN-granting registered nursing program at Columbia University, likely the 15-month Masters Direct Entry Program For Non-Nurses.


One of the banner highlights of this program is its ability for graduates to directly enter into one of the Columbia DNP programs without any nursing experience whatsoever (with the exception of Adult-Gerontology Acute Care, which requires a paltry 1 year). And what the hell, apparently you don't even need a state RN license to apply to the DNP program either - you just need to be "eligible" for one! Clearly, the Columbia University School of Nursing is a far cry from the Columbia University School of Medicine, which, as of 2021, is ranked #4 in the nation in a three-way tie with Stanford University and UCSF. Needless to say, it doesn't take a neurosurgeon to figure out who the "real doctor" would be - a midlevel NP with a "Doctor of Nursing Practice" from Columbia University, or a physician with an MD/DO from literally any medical school.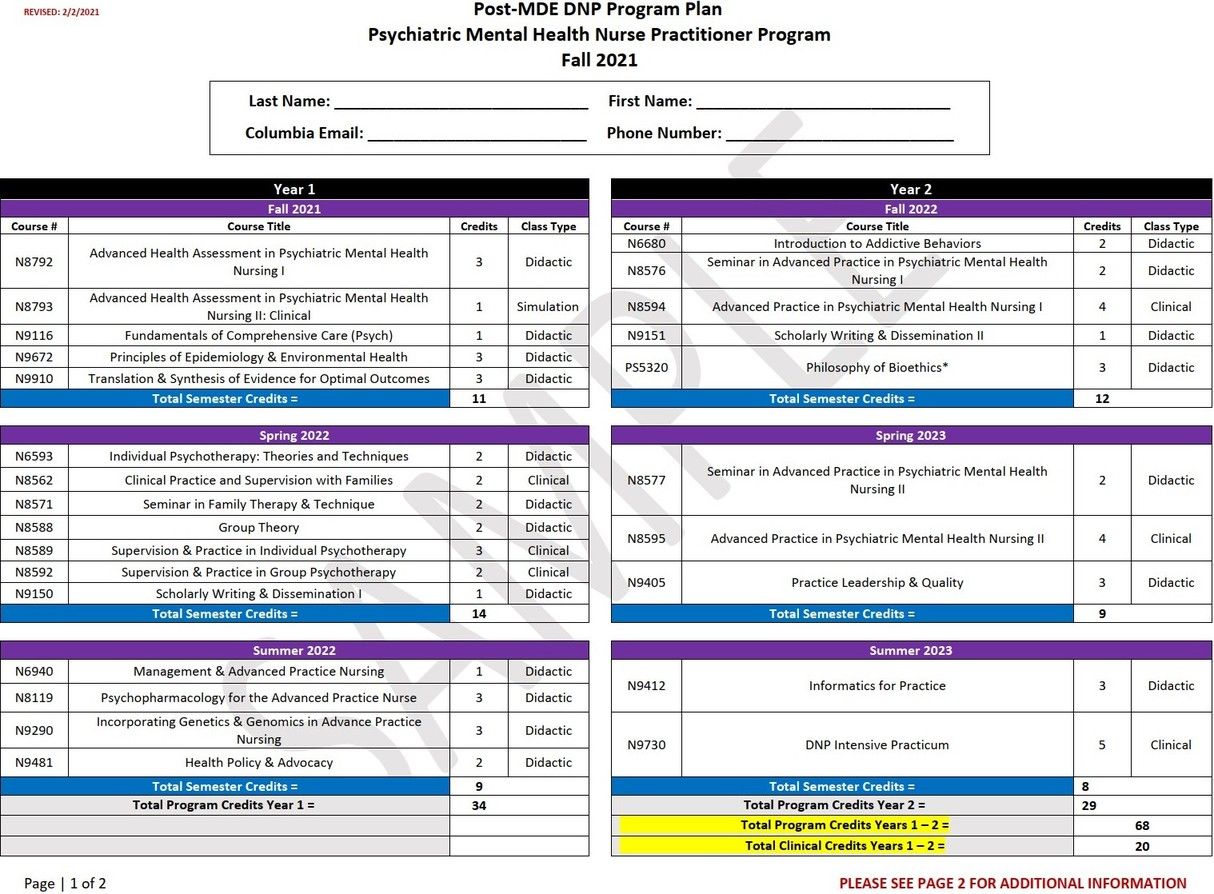 To make things even more interesting, we were able to scrounge up a copy of the Columbia DNP-PMHNP curriculum for the aforementioned master's direct-entry graduates. It would appear that the program can be completed in less than two years, with only 20 total clinical credits. Doing the math at 60 hours per term, this translates to 1,200 hours of clinical exposure, which is actually above average compared to most PMHNP curricula we've seen, but still a far, far cry (a 5.2-7% cry, to be exact) from the 17,000-23,000 hours of much more rigorous clinical training that an attending psychiatrist receives through medical school, psychiatry residency, and possibly fellowship.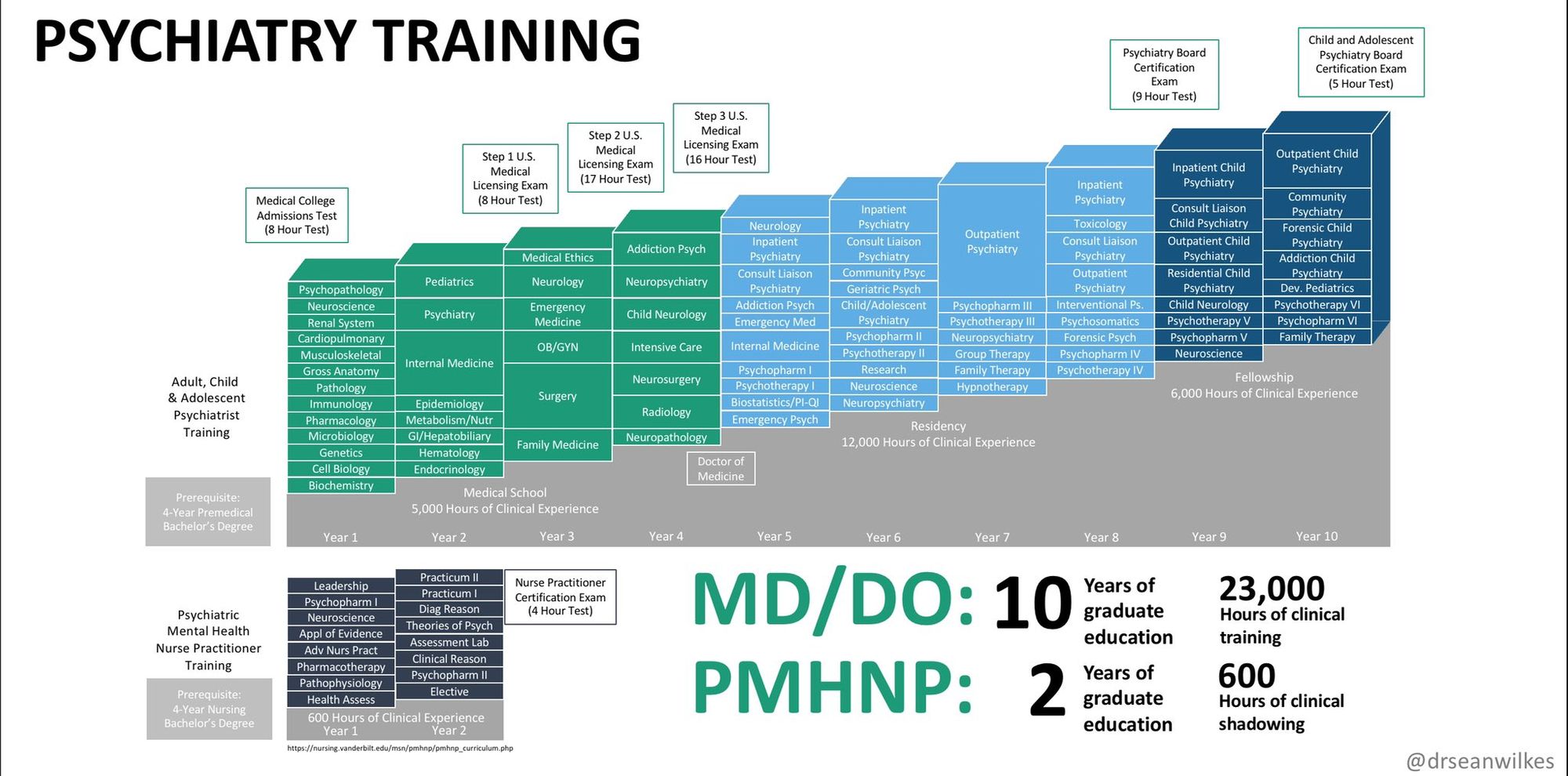 We could continue to beat this dead horse, but hopefully by this point we've made it crystal-clear that any midlevel, DNP or not, who fancies themself on TikTok in the cringiest way possible as the "doctor" patients ask for is suffering from little more than a delusion of grandeur. If you want to be a real doctor, go to medical school!