Newly minted PMHNP seeks board-certified psychiatrist to "pacify" Oklahoma regulators for 200 bucks a month
We're not sure who's more delusional - the NP who posted this job offer, or any physician who's crazy enough to risk their medical license for 200 dollars a month.
Are you a board-certified psychiatrist licensed to practice in Oklahoma? Are you in the midst of a midlife financial crisis so bad that you'd be willing to whore out your medical license to a newly-minted nurse practitioner in exchange for 200 bucks a month, which isn't even enough to cover the cost of applying for a medical license in the Sooner State ($500) or a federal DEA license ($888)? Or maybe you're a disgraced physician with a criminal or malpractice record so long that you have no choice but to be a midlevel's bitch to the tune of $2,400/year, when the going rate for a psychiatrist is $309,000/year? (Per several psychiatrist colleagues we've consulted, it's easy to find locums positions paying well in excess of $200 per hour, especially in an underserved rural bumfuck state like Oklahoma.) If you're a desperate, burned-out physician with no self-worth left and need some extra dough to make your child support payments on time, then look no further than this Indeed job listing by "SimplyCalm", which recently made the rounds on our favorite Reddit subreddit.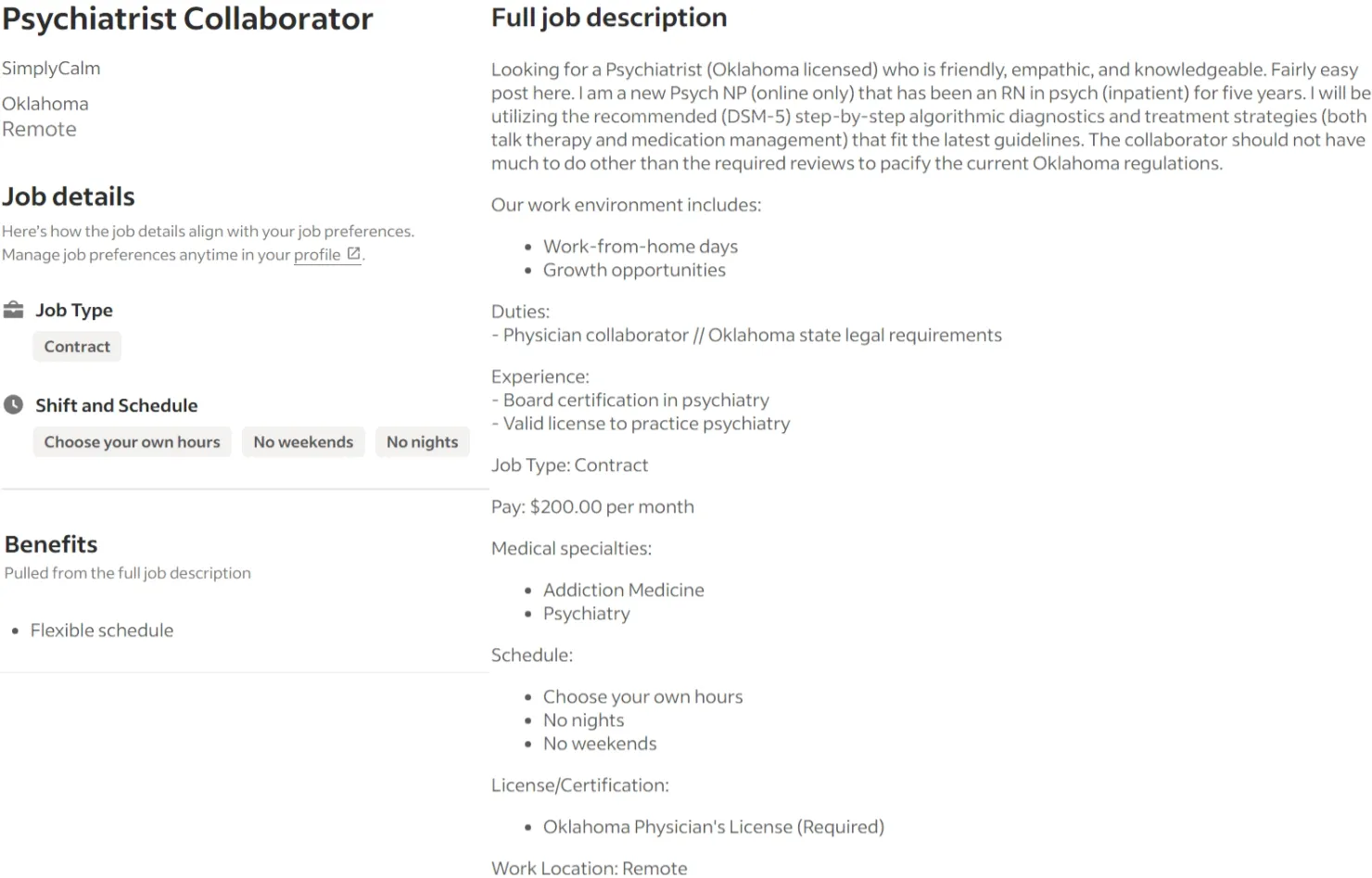 So who is the cheapskate behind "SimplyCalm"? With this kind of amazing pay on tap to lure the best and brightest Oklahoma-licensed shrinks serving as a human medicolegal liability shield in order to "pacify" state regulators, we figure we'd give him all the publicity he needs. A quick search of the Oklahoma Secretary of State business database and related online sources tells us everything we need to know about the mastermind behind SIMPLYCALM LLC: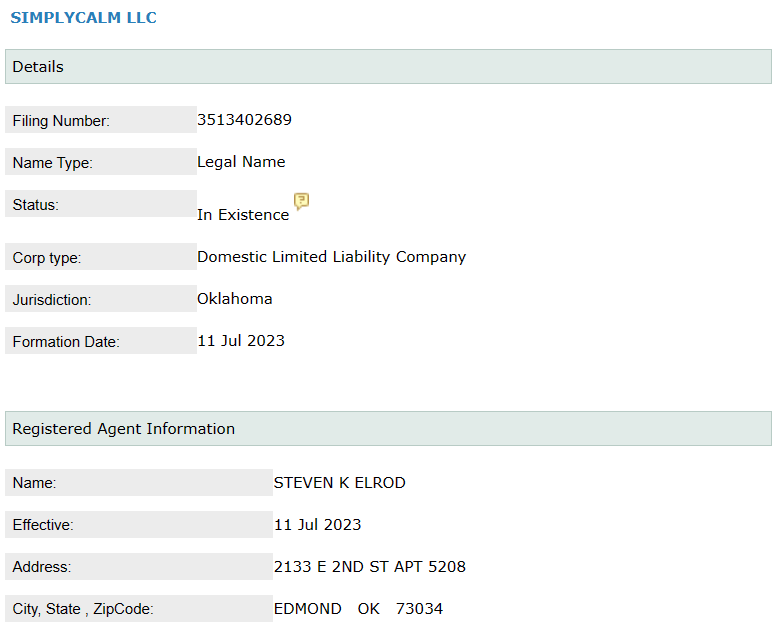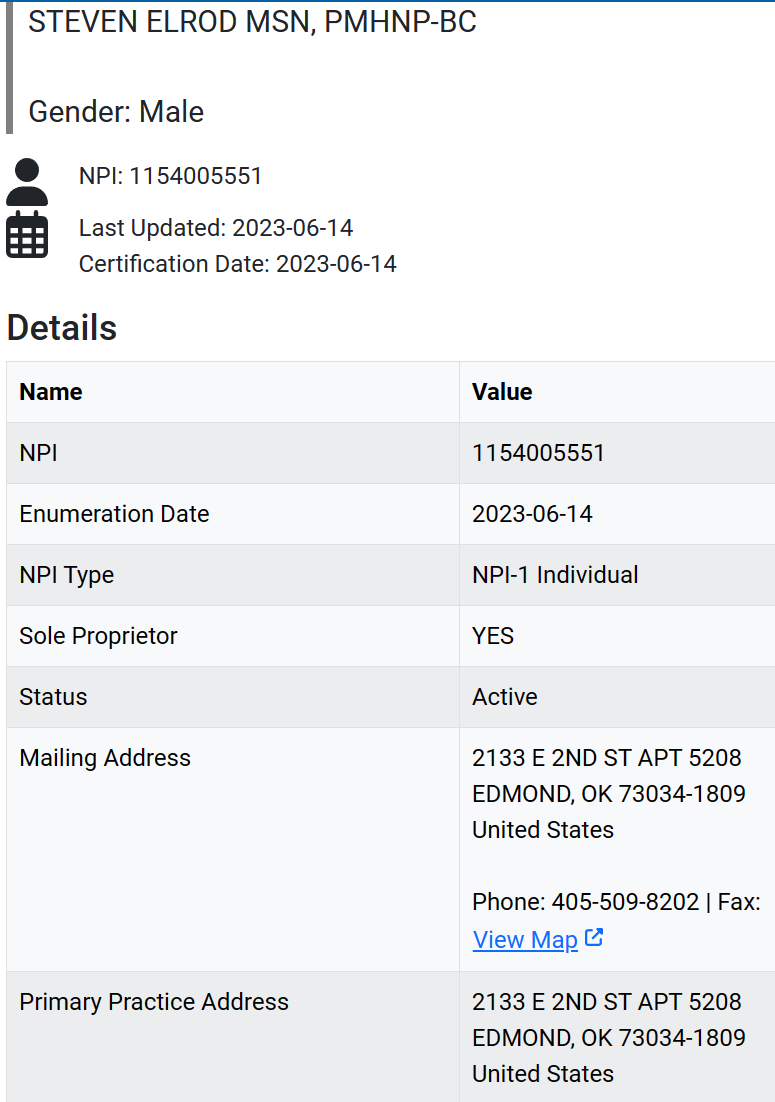 ---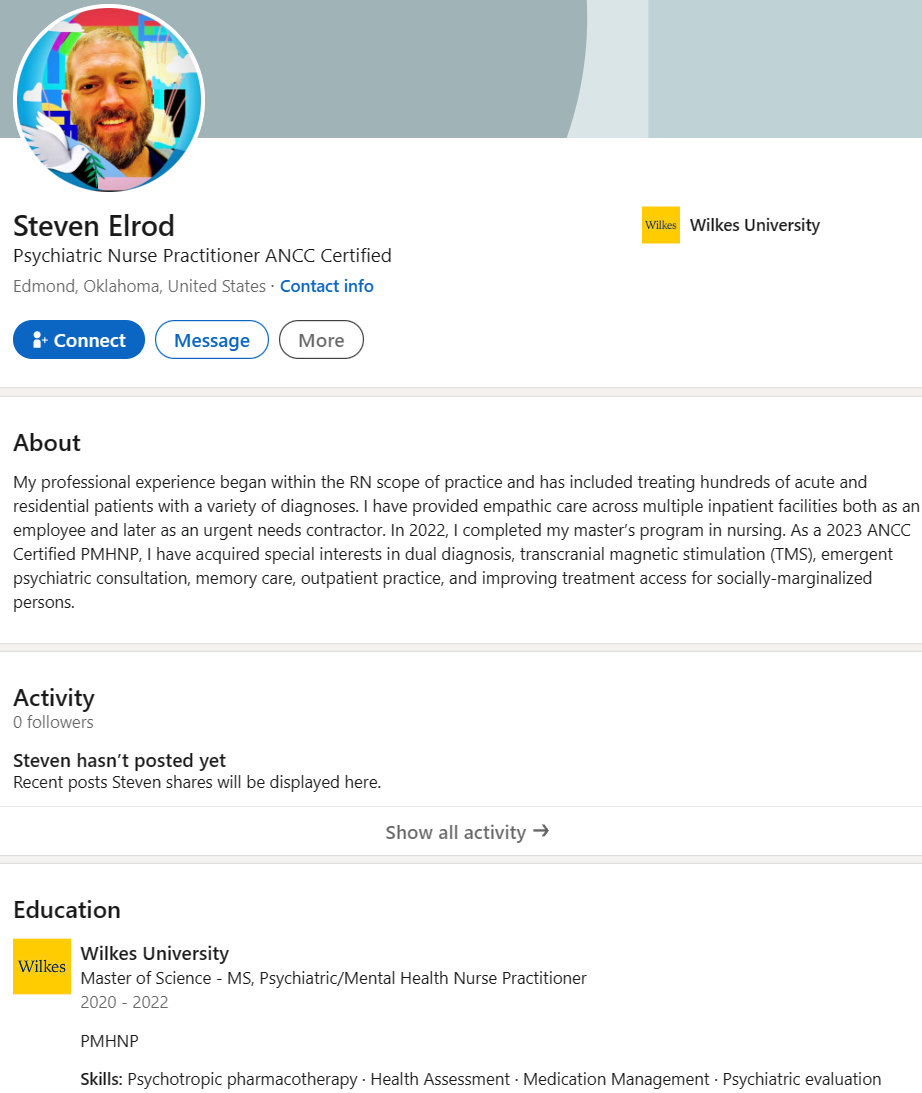 Setting aside the fact that acting as your own company's registered agent and using your own residential apartment address as your business address is generally considered a VERY BAD IDEA™️, it doesn't take much sleuthing to figure out that Mr. Steven K. Elrod is indeed a newly-minted PMHNP with a degree from the online diploma mill revered institution known as Wilkes University.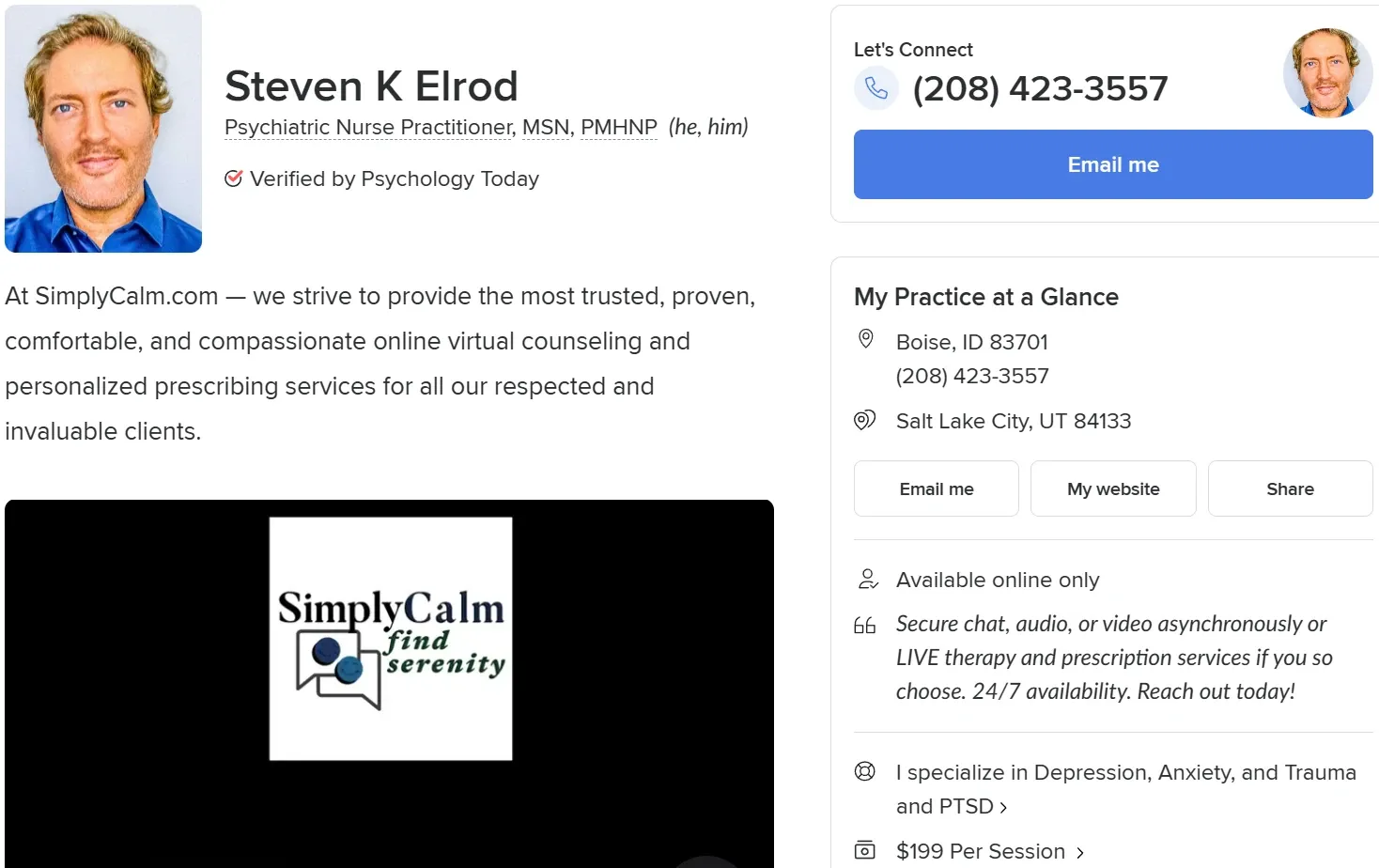 One can only speculate as to how much Mr. Elrod respects laws, regulations, and the vast difference in knowledge, training, and experience between a nurse practitioner and a board-certified psychiatrist if he thinks that the only purpose of a collaborating/supervising physician is to "pacify" state regulations, not to mention his financial sensibilities if he thinks any sane board-certified psychiatrist would agree to take on that level of liability and responsibility for a fraction of the average monthly car payment in the United States.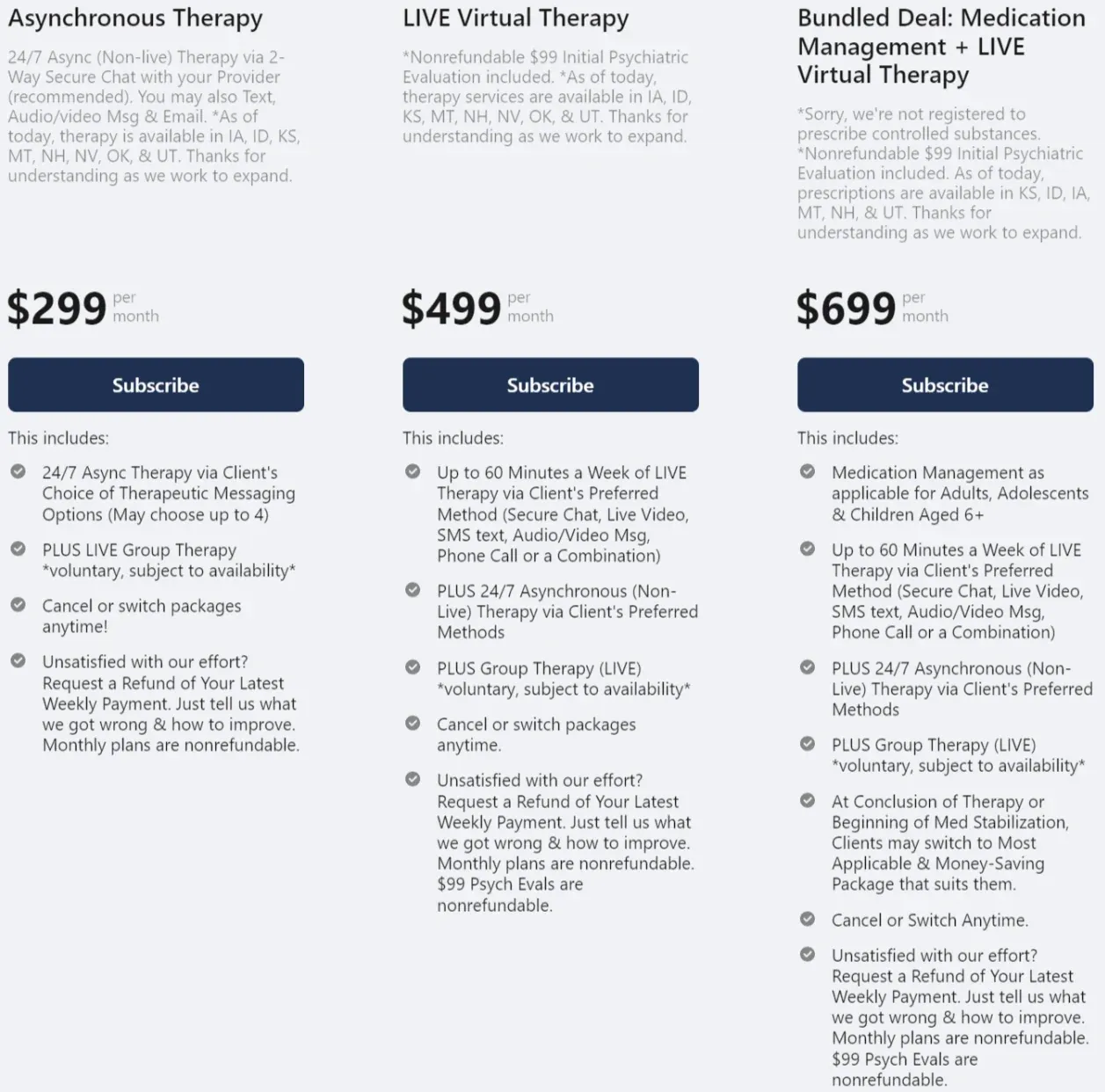 Since Mr. Elrod has graciously shared his address and phone number for the entire world to see, perhaps someone with way too much time on their hands could visit and/or call him to see if there was a typo in his Indeed ad and that he didn't actually mean $2,000 instead of $200 a month. Given the fact that he's gouging patients to the tune of almost 700 dollars a month on his website (SimplyCalm.com), the laughable idea of paying a collaborating physician only two Benjamins a month to "pacify" state regulations and take on a massive amount of malpractice liability on behalf of a midlevel nurse practitioner is motherfucking insane, if not straight-up highway robbery. Perhaps he should consider performing one of his nonrefundable "$99 Psych Evals" on himself. But then again, in the restricted-practice state of Oklahoma, that would require a supervising physician, wouldn't it?