The Michigan State University College of Osteopathic Medicine PA Program: Separate but Equal?
On November 22, 2021, MSUCOM Dean Andy Amalfitano, DO, PhD and PA John G. McGinnity put out a co-signed news release announcing the new SpartanPA Medicine Program, Michigan State University's new Physician Assistant school under the auspices of the existing (and very well-respected, at least until a certain gymnastics team doctor came along) College of Osteopathic Medicine. Yawn. Another day, another new midlevel school, right?
Without reading the fine print, one would be forgiven for thinking so. We've carved out the juicy parts for you here: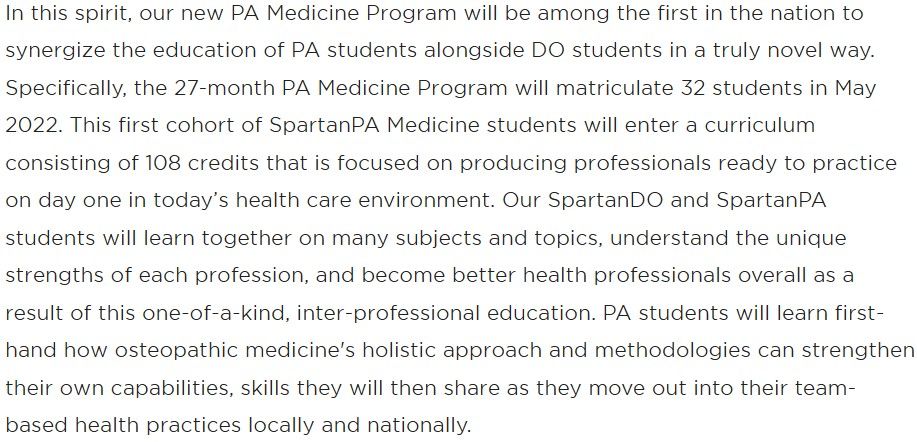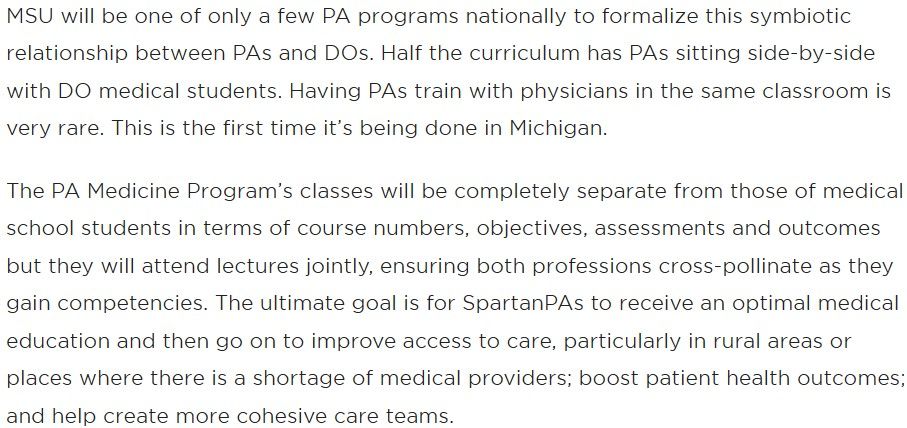 Yep, you read that right. Aspiring PA midlevels will be sitting side-by-side next to even more aspiring medical students to "learn together on many subjects and topics", whatever that means. Hopefully they maintain social distancing precautions at least? We wouldn't want the midlevels to be infected by the sheer aptitude and ambition of the medical students, after all. And why do PA students need to "learn first-hand" about "osteopathic medicine's holistic approach and methodologies"? If someone wants to learn osteopathic medicine, then they should apply like everyone else and compete to go to fucking osteopathic medical school instead of taking the easy route and getting into midlevel school.
Indeed, it's absolutely shameful to have medical students and midlevel PA students sitting together, taking the same class, while simultaneously admitting that the PA students will be held to a completely different (and likely lower) set of standards than the medical students, with different "course numbers, objectives, assessments and outcomes". On the bright side, given the much higher admissions standards for medical school as opposed to midlevel school, maybe this little experiment will at least provide for some interesting data in a few hours showing how much better the medical students perform compared to the PA students?
It would be remiss for us to ignore the elephant in the room: why? The head honchos want to call it interprofessional "cross-pollination", but let's be fucking honest here, we didn't graduate from medical school yesterday. As with everything relating to healthcare in the United States, it's all about that sweet sweet money. With an operating budget in FY 2020-2021 of only $31M compared to their allopathic MD counterparts' budget of $53M in the MSU College of Human Medicine, it's fair to say that that MSUCOM, partly due to it being an osteopathic institution, has always lived in the shadow of MSUCHM. While the main campus of the College of Human Medicine got the chance to relocate to a shiny, new, $90 million facility in Grand Rapids in 2010, the home of the College of Osteopathic Medicine has been stuck in Fee Hall on MSU's East Lansing campus since 1971. Architectural glamor aside, it's no wonder why the big cheeses at MSUCOM would be salivating over the revenue stream brought in by a new midlevel school, while simultaneously saving major bucks by having the new PA students freeload off of the existing medical school curriculum. Meanwhile, the academic value and prestige of a DO degree from MSUCOM gets bastardized to hell.
Last but not least, is their claim that "PAs can help offset" "the shortage of doctors in the country". Thanks, but no thanks. This is a topic that's been beaten to death harder than Michigan State's football team when playing Michigan. Creating more midlevel providers is NOT a long-term solution to the problem of the physician shortage. Creating more residency spots is, along with putting unmatched graduates to work.
Shame on you, Michigan State University, the College of Osteopathic Medicine, and Dr. Amalfitano, for further degrading the medical profession and what it means to be a physician.