"Dr." Sylvienash Moma, DNP's sketchy COVID-19 vaccines
Say Nada to DNP Moma's vaccines.
Last updated on April 19, 2021 with additional details from news articles and the "press conference".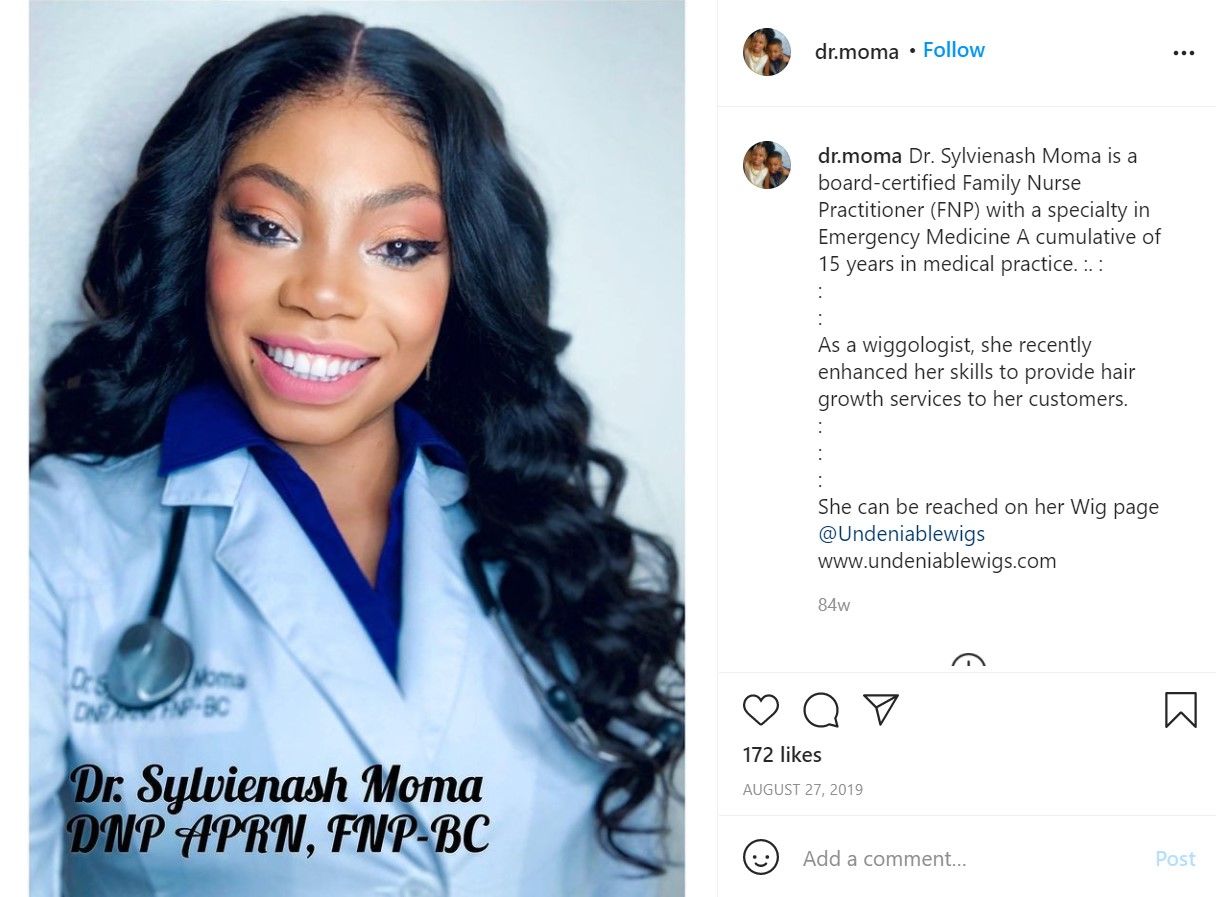 There's nothing that bolsters your reputation for providing high-quality healthcare quite like setting up shop in a two-star hotel. That's exactly what our latest noctor, whose real name is Sylvienash Moma, decided to do at the two-star Satellite Hotel in Colorado Springs. Suffice it to say, the Satellite Hotel is not exactly a shining beacon of cleanliness and hospitality.
As you might have heard recently in the news, the "Dr Moma Health & Wellness Clinic" landed itself in hot water (hot springs?) recently with state authorities due to concerns over the clinic's vaccine documentation and temperature protocols, or possible lack thereof.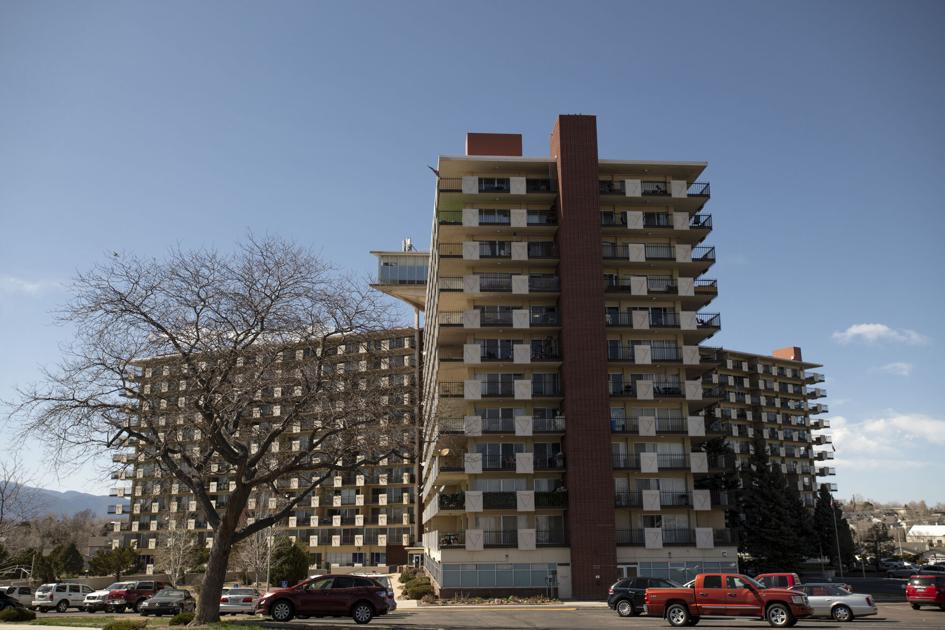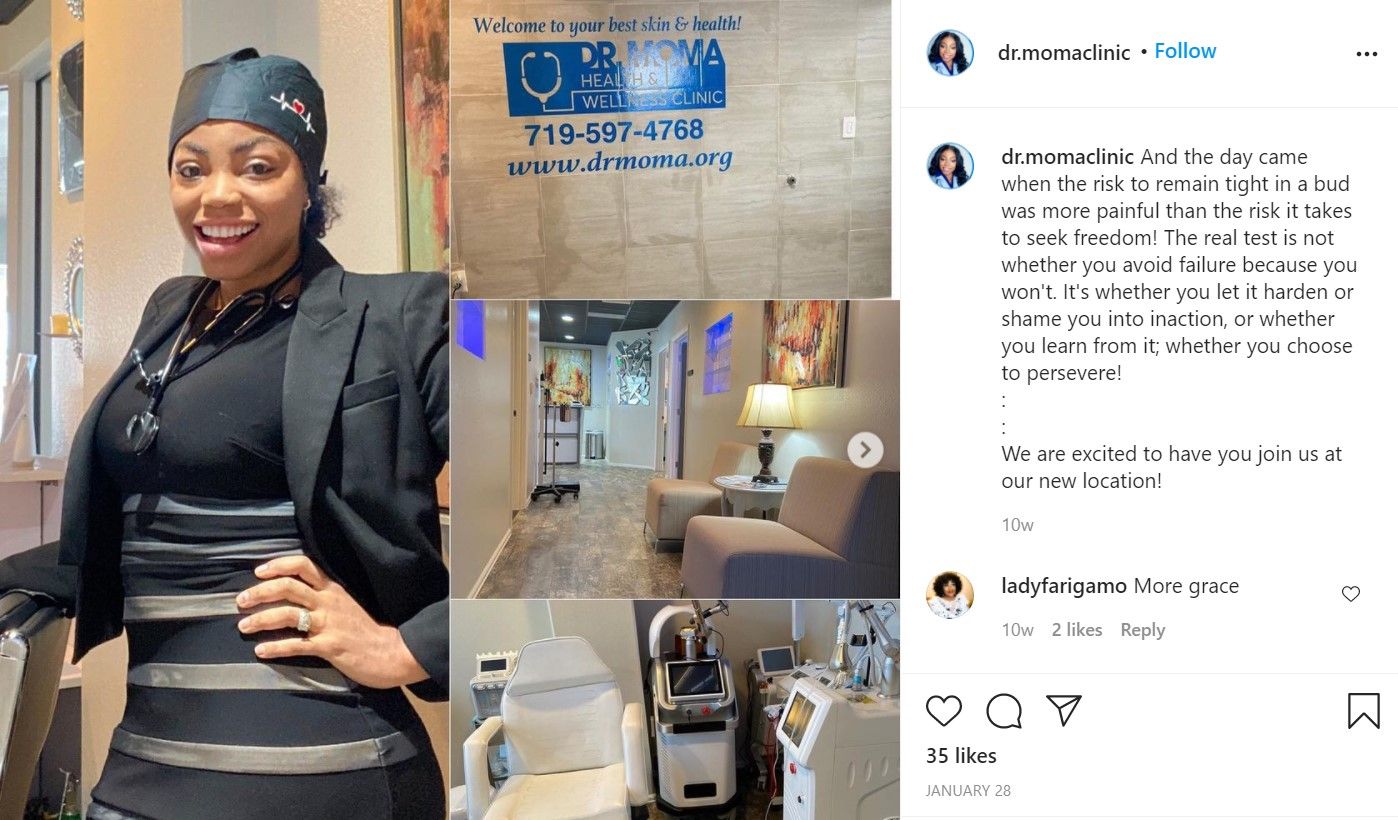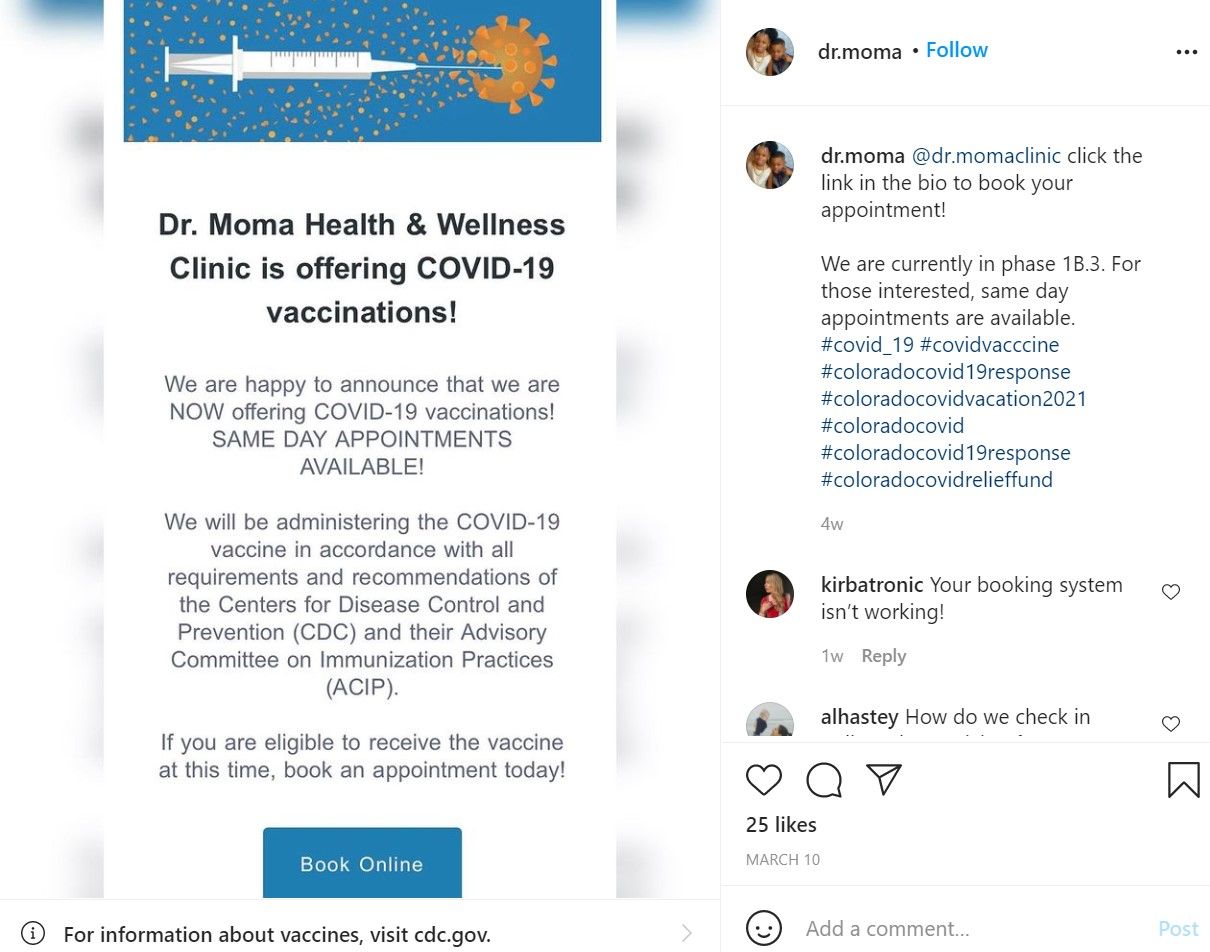 "Report reveals no visible temp logs, vaccine coolers at Dr. Moma COVID-19 vaccine clinic": KUSA/9News
When a nurse practitioner-run med-spa decides to get into the business of offering COVID-19 vaccines that need to be handled, stored, and administered according to strict protocols, what could possibly go wrong? A lot of things, apparently. Here is the report released by El Paso County Public Health, obtained courtesy of local TV station KKTV through a Colorado Open Records Act (CORA) request:

And check out these quotes and excerpts from the news articles linked above:
Alison Christofferson, who received her first dose of the Pfizer vaccine at the medical spa April 1, said she initially thought Dr. Moma was a physician.
"After I made the appointment, I looked the place up, and found that it was a medical spa," Christofferson said. "But I thought, 'If they can give Botox injections, they should be able to give a shot.'"
She received an email late Friday saying that the state health department had paused administration of the vaccines at the clinic.
"My first thought was, 'Oh my gosh, I should have followed my gut and never gotten vaccinated there,'" Christofferson told The Gazette on Saturday. "It seemed fishy. But I wanted the vaccine, so I overrode my gut."
And some of this stuff is so horrifying to read, you can't make it up:
According to the health department, the county employee noticed more than 1,400 appointments scheduled on April 9. Because it seemed unlikely that the size of the facility could support that many appointments, the department said she visited the facility that afternoon.
1,400 appointments in one day?! The fuck? Making the generous assumption of a 12-hour workday with no breaks, this works out to one vaccine every 5 minutes. Even without the 15-minute post-vaccination waiting period, it doesn't take a mathematician to see that this is logistically impossible, especially for a small clinic located in a hotel.
The employee's report says there were several trays loaded with filled syringes in a pile and a bowl with vaccines in it on a desk. The employee stated she did not see any temperature logs or vaccine coolers. The report says the syringes were not labeled.
When asked who was observing the patients, the report says Moma explained there was a nurse with an Epi-pen driving around. "During the time we were there, we did not see anyone driving around that was noticeable," the report says. "I asked Dr. Moma how patients would know how to get ahold of the nurse, and she stated, 'They would just come back in the building.'"
Even if we take Moma's word for it that there actually was a nurse driving around with an Epi-Pen, this is such a laughably inappropriate and medicolegally unacceptable arrangement that it's beyond imagination. Was she planning on having someone suffering from acute anaphylaxis just open their car door and saunter back into the building? Is this nurse endowed with superhuman-level powers of observation that he/she will be able to instantly notice when someone is having a potentially life-threatening allergic reaction, in any car in any parking spot at any point in time? RIP anyone with tinted windows, I guess!
Other concerns, according to the report, included a lack of COVID-19 prevention measures in place, such as masking and social distancing.
The April 19, 2021 "Press Conference"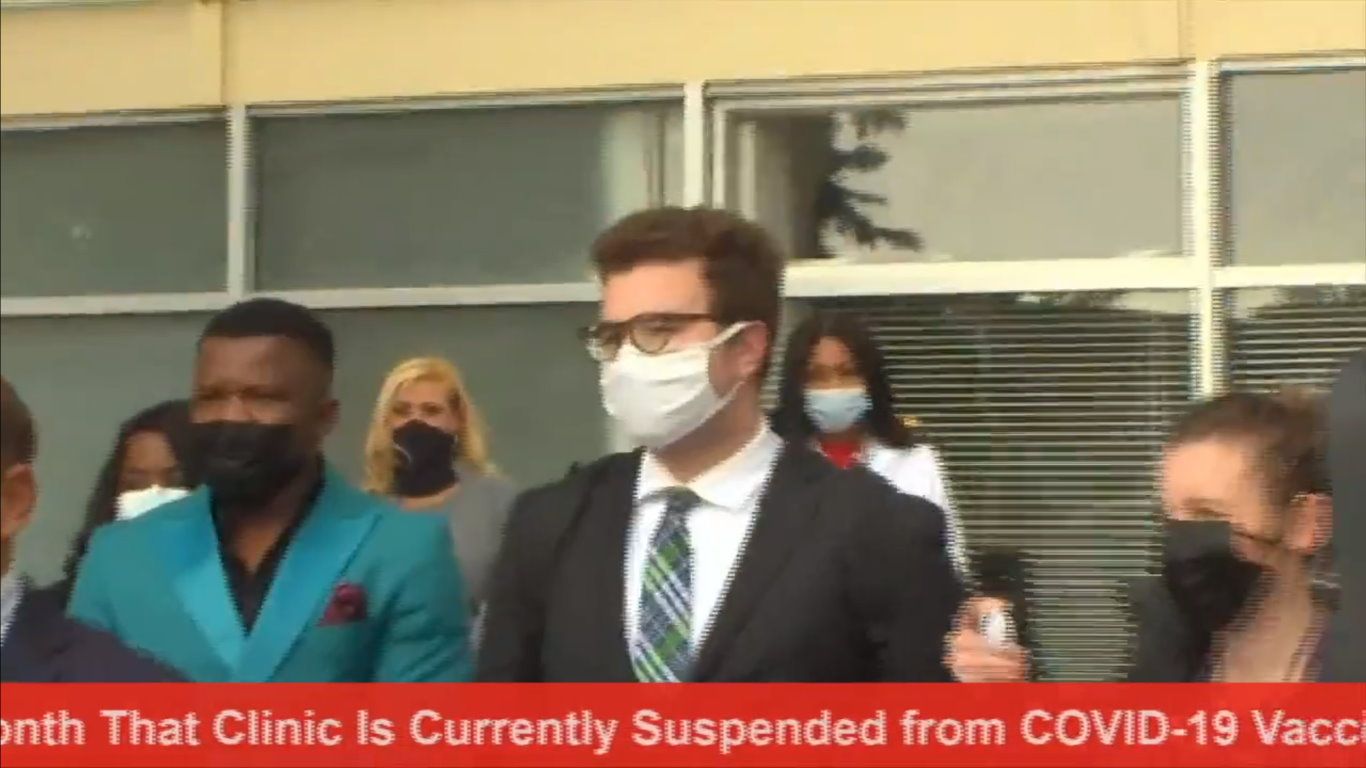 On April 19, 2021, Noctor Moma held a "press conference". Or, shall we say, some random woman by the name of Elizabeth Higgins purportedly representing Noctor Moma, who was conspicuously absent from her own press conference hiding in the background, went on for about 10 minutes awkwardly spouting a lot of words with very little substance and refusing to answer any substantial questions. Not to mention, she needs some remedial education in how to fucking wear a mask properly. Seriously, we're more than a year into the COVID pandemic - you should have figured this out by now. Apparently, by her own words, Elizabeth is a "sports med trainer" (???) and is "just another woman supporting Dr. Moma". Is she even affiliated with the clinic? SOUNDS TOTALLY LEGIT.
Noctor Moma's Education
"I'm a doctorate family nurse practitioner," Moma said. "And in the state of Colorado, the title 'doctor' is not exclusive to physicians."
She says she has no plans to change that.
"That title is something that I earned, and I'm entitled to call myself that," she said.
Hmm, you know how we always write about how it's misleading for midlevels with "doctorate" degrees (such as DNPs "earned"/purchased from 100%-online for-profit diploma mills) to label themselves "doctors" in clinical settings, due to the possibility for patient confusion, if not outright deception? Whenever we bring this up on our Twitter, there's always a few vocal midlevels/midlevel shills who make arguments along the lines of "patients are smart enough to know the difference" and "we deserve to be called doctors because it's an academic title". Well, guess what? As this story demonstrates, it turns out that misrepresenting yourself as a doctor is actually a very real concern with very real consequences.

A little bit of internet archaeology reveals that Noctor Moma obtained her "Doctorate" of Nursing Practice from Wayne State University in or around May 2018, and that prior to that she had been employed as a nurse at several hospitals in the Detroit area after obtaining associate- and bachelor's-level nursing degrees from Oakland Community College and the University of Detroit Mercy, respectively. Notably, it appears that Noctor Moma didn't ever obtain a MSN and went straight for the DNP thanks to Wayne State's BSN-DNP pathway. She claims to provide "comprehensive primary care" in her bio. Do you think taking a few courses with names such as "Foundations of Nursing as a Discipline", "Health and Health Disparities", "Informatics Innovations in Nursing", and one class each in physiology/pathophysiology and pharmacology qualifies someone to go out and start practicing primary care independently?
Several of Noctor Moma's years as a nurse were spent working in the emergency department and ICU/CCU. Maybe that's where her claim to fame in emergency medicine comes from? In any case, her proclamation that she has a "specialty in Emergency Medicine" is a slap in the face of every Emergency Medicine attending and resident physician out there. As we all know, years of nursing "experience" is no substitute for a proper medical education, and to attempt to equate it as such is a commonly-used tactic by the more radical elements of the nurse practitioner lobby to push for full practice authority.
Can you trust that someone with this educational background is sufficiently qualified to be safely and correctly administering immunizations such as the COVID-19 vaccine, let alone independently practice "comprehensive primary care"? Yes, Colorado is a full practice state. With this vaccine debacle, the results of FPA speak for themselves. Keep in mind that at a minimum, a primary care physician must complete four years of medical school and three years of residency in a primary care specialty such as internal medicine, family medicine, or pediatrics. With full practice authority, Colorado is starting to reap what it sows, and unfortunately, its citizens and patients are the ones who suffer the consequences.